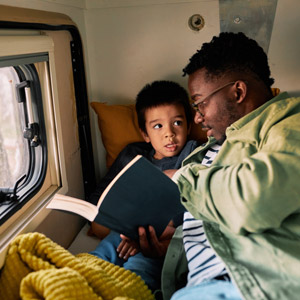 Father's Day is just around the corner, and now is the time to find the perfect gift for dad. If your dad loves RVing as much as we do, one of the best gifts you can give him is something to make his favorite pastime even better. If your dad is a full-time remote worker, retired RVer or even a hunter or outdoorsman who spends his weekends in his RV out in nature, this list of RV gifts for dad is sure to be a hit.
Father's Day Ideas for the RV Dad
RV dads are often synonymous with being kings of the grill, masters at problem-solving RV maintenance and outdoors enthusiasts. Our selection of RV gifts for dad reflects these areas of expertise. From gifts that make grilling, tinkering and exploring all the more enjoyable, we've got a gift for every RV dad on your list. 
This
portable charcoal grill
allows dad to flex his grill skills no matter where he camps. It makes one of the best RV gifts for dad because its compact, lightweight and able to be used anywhere. You don't need gas or propane to be able to whip up the perfect meal with this grill! The top of the grill even doubles as a prep board. To complete the grilling gift theme, toss in a
bamboo grilling tool set
to match, and include the ultimate
grilling spice kit
.
Give dad the ultimate outdoors fridge with this Dometic fridge and freezer with a built-in ice maker. Dometic is the ultimate brand when it comes to RVing and camping refrigerators. They make several different sizes with a wide variety of features, including full size RV refrigerators. This particular model pictured here is perfect for the overlanding, van life or RV dad who likes to get a little off-grid. It's portable, versatile and can be set to different temperatures so you can use it both as a fridge and a freezer. An extra bonus: it can make ice too! At a lower price point, these Yeti drink coolers make great RV gifts for dad to keep his drink ice cold even after it comes out of the fridge.
If your RV dad is a fisherman or love shis time outside, check out these inflatable kayaks. Space is tight in an RV, so RVers often have to be highly conscious of the amount of toys they bring along on their travels! But since these can be deflated for storage and re-inflated in just a few minutes, they're perfect RV gifts for dad. While these inflatable kayaks usually run around $150, they're on sale leading up to fathers day for just $90!
For the RV dad who is active and loves spending time outdoors, this Garmin outdoor watch with GPS is a great gift. This watch features a compass, a heart rate monitor, an altitude tracker and 3 different global satellite navigation systems. And it all connects to an app on your smart phone! Perfect for the dad who loves trail running, hiking, hunting or biking. Of course, the Apple Watch or the Fitbit also make great RV gifts for dad. The best part? This regularly $250 watch is on sale for just $161 leading up to Father's Day!
For the RV dad who loves to read, gift him an Amazon Kindle. RVs don't have much space for a collection of paper books, so a Kindle is a great way for dad to read as much as he wants without taking up space in his rig. This $90 Kindle is on sale for just $60 right now and will allow dad to do all the reading he wants in his camping chair underneath his RV awning.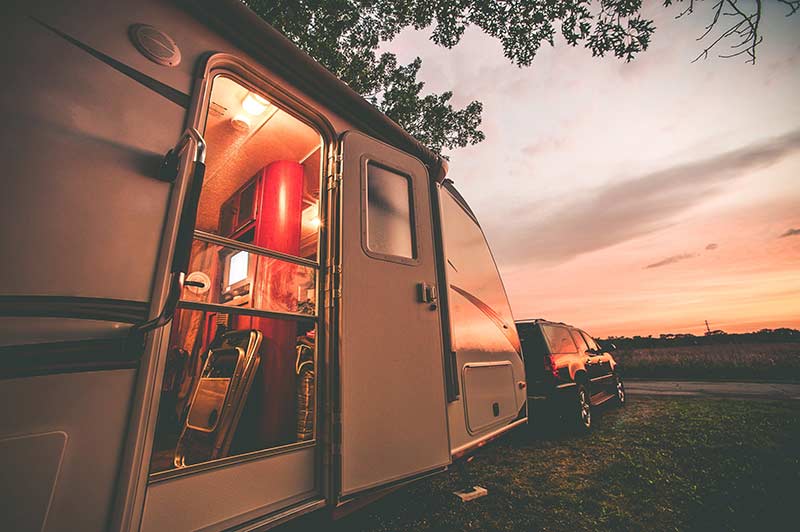 Need the perfect RV for a getaway?
Parking the RV can be a stressful situation. Take a load off of dad (and everyone else involved in the parking process!) by treating him to this RV backup camera. The Furrion Vision S is Amazon's Choice for the best RV backup camera and includes infrared night vision and a wide viewing angle so he can park the rig in any scenario. Easier RV parking = less grumpy family arriving to the campsite. It's a win for everyone!
Every RV dad needs an RV toolkit! If there's one thing RVers know about RV life, it's that you have to be prepared for anything. That's why having a tool kit on hand is essential for your RV trips. This Carhartt tool bag allows dad to store his tools in a way that's both ultra cool and easy to access if anything goes wrong. Bonus tip, fill the tool bag with all of his favorite tools or even a pair of cowhide leather work gloves.
Does your dad enjoy great views, good wine and a cheap campsite? Gift him a
Harvest Hosts
membership! This membership allows him to camp at over 3000 gorgeous campsites around the US, like
wineries, farms and local attractions
. Once you buy him his membership, he can utilize any of these beautiful locations for FREE overnight camping! Harvest Hosts encourages overnighters to purchase something from the small business they're camping with, but we don't think dad will mind picking up a bottle of win in exchange for a stunning campsite. A
Boondockers Welcome
membership is another similar membership. Both are great RV gifts for dad, and when you use our links to sign up, you get 15% off!
Finding the right RV gifts for dad
No matter what avenue of RVing your dad loves, these gift ideas should help you find the perfect Father's Day present. Share in his favorite hobby with him by giving him something to make his RV trips even more memorable!
If you still need a little more inspiration, check out our full RVUSA Amazon Essentials page for more recommendations on RV essentials for everything from security to maintenance.
This post contains affiliate links. RVUSA.com will receive a small commission at no cost to you if you make a purchase using these links. We appreciate your support!
Ready to find an RV for your adventures?