Though you may have your main destination in mind, chances are you'll pass tons of odd or offbeat attractions along the way. If you have the time, why not stop and check them out? And it isn't the driving that makes those sweet memories you'll cherish forever, but it's the restroom stops, gas station fill-ups, and last minute detours on your way to your destination. Below are some crazy roadside attractions you won't want to miss.
Pineapple Garden Maze- Wahiawa, Hawaii 
Love pineapples?? This crazy maze is the place for you! The Pineapple Garden Maze in Wahiawa, Hawaii is also known as the Dole Plantation. In 2008, it was declared the largest of its kind, reaching almost 3 acres and nearly 2.5 miles of pathways. While visiting, try to be the fastest to find your way through the life-size puzzle so you can sign your name at the entrance. Once you've completed the maze, cool off with some signature Dole Whip, pineapple-flavored soft serve ice cream. Tickets are super cheap, too, just $8 for adults and $6 for kids 4-12.
Bubblegum Alley- San Luis Obispo, California 
You've more than likely seen tons of photos of similar walls on social media, but this wall is the real deal. Not to be mistaken for the Gum Wall in Seattle, Bubblegum Valley is an actual tribute to the sticky, sweet stuff. The alley, about 70 feet long and 15 feet high, is covered in thousands and maybe even millions of pieces of gum. The tradition has –stuck- since the 1070s and who knows how much longer it'll go! If you aren't too grossed out by the idea already, hop off of Highway 101 and take a quick photo. Or, contribute your own piece! (Just bring hand sanitizer, okay?)
The Mystery Hole- Ansted, West Virginia
Who doesn't love a good optical illusion? The Mystery Hole in West Virginia not only offers entertainment, but natural wonder, too. Here, objects tend to roll in the opposite direction of gravity, water is known to go uphill instead of down, and there are endless optical illusions that never cease to amaze visitors.
Flintstones Bedrock City- Coconino County, Arizona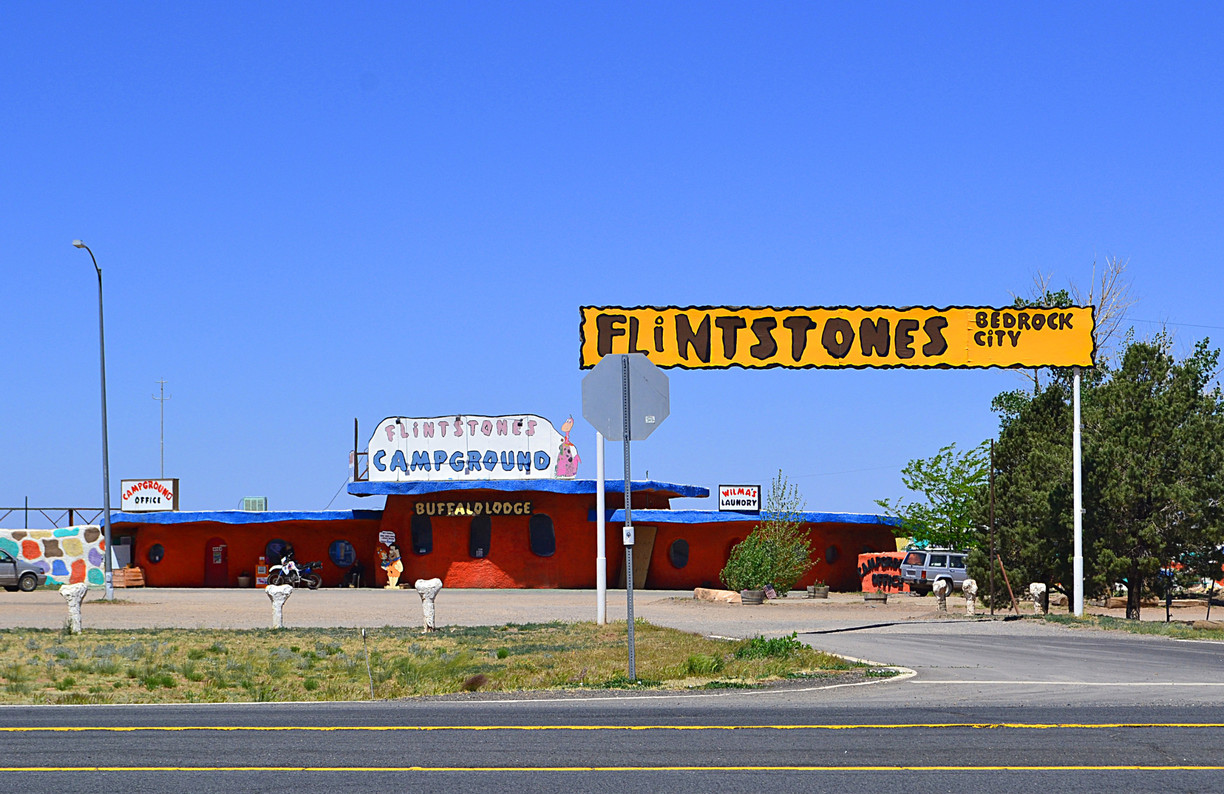 No matter your age, you probably grew up with the Flintstones show or have at least heard of the iconic family. Why not bring those memories back and use Fred's stone car or make a quick call on the bone phone for yourself? Perfectly located in the desert landscape of Arizona, just off of Highway 64 and 25 miles south of the Grand Canyon, the Flintstones Bedrock City includes everything you'd ever need to feel at home in the Bedrock City you know and love. Visitors will find Wilma's Laundry, Barney's Grocery and even Fred's Diner, where you can grab a Bronto Burger and some Gravelberry Pie. Just can't stand to leave? No worries! You can set up your RV at their on-site RV campgrounds. And for a mere $5 entry fee, it's definitely worth the trip.
Dinosaur Kingdom ll- Natural Bridge, Virginia 
This theme park has it all! You'll have to read the park's sign to understand the odd collection, but visitors can expect to find a cast of characters fighting off the dinos, including Yankee soldiers, mad scientists and Abraham Lincoln. They find a way to combine entertainment with history, education and science fiction. If you love to learn about anything and everything, this is the perfect offbeat stop for you. Admission is only $10 for adults and $6 for kids 3 to 12. Rawr!
Official Center of the World- Felicity, California 
This is most definitely a debated topic, but Felicity, California gives you a quite concrete answer. In fact, the mayor, Jacques-Andre Istel, declared the Center of the World here, and chose to build a town around it to keep his claim. He saw this empty piece of land while serving in the Korean War, then bought it with the money he saved from his parachute schools business. He wasn't sure what he'd do with it, but he soon found out. He named the town Felicity, after his wife, Felicia Lee and thought the best landmark to put down was a pyramid, seeing as it was a desert. The town still only has a few residents and the only restaurant is open just four hours a day. If you're lucky, Jacques may be roaming around the grounds for you to meet him.
Lucy the Elephant- Margate City, New Jersey 
Standing at a whopping 65 feet tall and made completely of wood and tin, Lucy the Elephant is so massive that she was once converted into a four-bedroom summer getaway house. She was built in 1881 as a way to draw developers to the South Atlantic City. After all these years, she has withstood the test of time, outliving demolition, hurricanes and endless visitors constantly poking her belly. Take a quick detour and visit her for yourself for only $4. Don't forget to pick up an elephant eraser for just $1!