For RVers embarking on cross-country adventures or exploring unfamiliar destinations, having reliable navigation and RV GPS apps is essential. These apps can do so much more than provide turn-by-turn directions. Often, they help you avoid low clearance bridges, find RV-friendly routes, and locate essential services along the way. In this blog, we'll introduce you to the top navigation and best RV GPS apps specifically designed for RVers. With these apps at your fingertips, you can navigate with confidence, ensuring a smooth and stress-free journey.
Navigate Your RV Adventures with Ease: The Best GPS Apps for RVers
You may be wondering: 'what is the best app for RV travel?' Well, the answer is subjective. When it comes to choosing the right RV GPS app, it really does depend on preferences and those vary from person to person. With a wide range of apps available, selecting the best RV GPS app for your unique needs as an RVer can feel overwhelming. Each app offers different features and functionalities, going beyond basic navigation to provide RV-specific routes, campground information, real-time traffic updates, and more. These RV GPS apps are designed to instill confidence in your navigation. This means they ensure you steer clear of low bridges, narrow roads, and other obstacles commonly encountered during RV travel. We will delve into some of the best RV GPS apps currently available and discuss the benefits of each. Continue reading to learn more to make an informed decision on the perfect RV GPS app to accompany you on your journey.
What are the best GPS apps for RV Travel?
RV Life Trip Wizard
RV Life Trip Wizard is a community-driven RV GPS app that aims to make RV adventures safer, less expensive and more enjoyable. With this app, you can access your planned trips via Trip Wizard integration. Trip Wizard is a comprehensive trip-planning feature that allows you to customize an RV-safe route for your specific rig. This feature allows you to create personalized itineraries based on your RV's specifications, such as height, weight, and length. RV Trip Wizard generates RV-friendly routes that steer clear of obstacles like low bridges or narrow roads.
Additionally, the app includes a comprehensive directory of campgrounds and RV parks, providing detailed information on amenities, pricing, and user reviews. This makes it convenient to find suitable accommodations along your route. RV Trip Wizard also offers valuable information on points of interest, attractions, and essential services, enabling you to explore the best of your surroundings.
Moreover, the app features a fuel cost calculator that estimates fuel expenses based on your vehicle's mileage and fuel consumption. This handy tool helps you plan your budget accordingly and manage your travel costs.  Additionally, it will rank your memberships, like Good Sam or Escapees, and find the best value parks during your trip. And the visual RV trip planner allows you to see the route you are taking, with campgrounds, gas stops, points of interest, and more. You can sign up for a free one-week trial and if you love the app, it costs $59 annually. Whether you're a seasoned RVer or embarking on your first adventure, RV Trip Wizard is a valuable companion that simplifies trip planning and navigation. It's a great companion for a memorable and well-organized RV journey.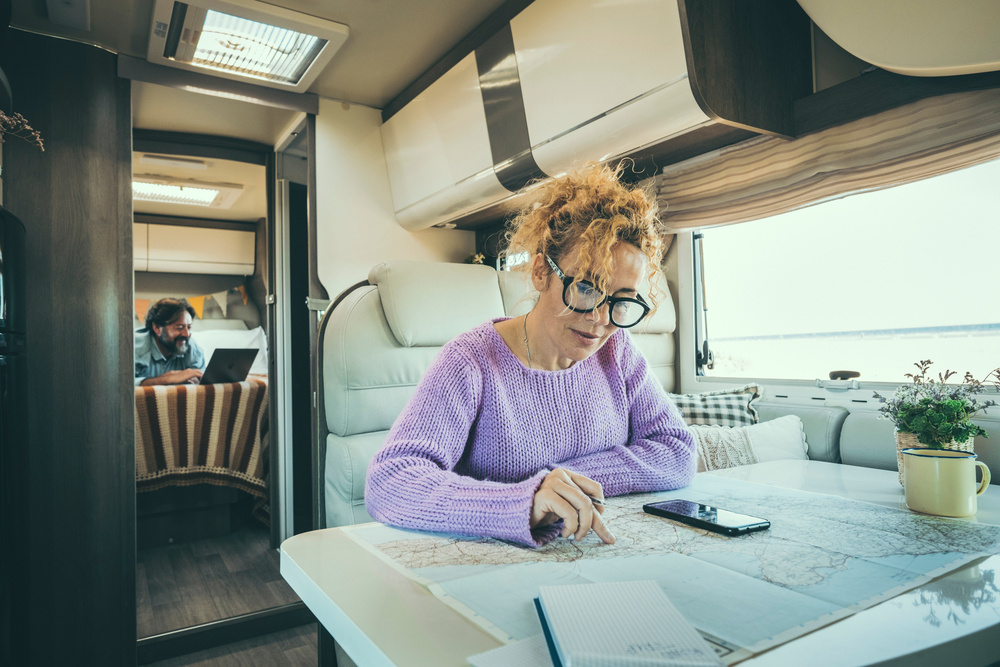 InRoute
The InRoute app is a powerful tool that offers comprehensive navigation features tailored to the needs of RVers. This RV GPS app stands out for its ability to create custom routes based on specific preferences such as avoiding tolls, highways, or unpaved roads. With InRoute, you can plan multi-stop trips with ease, optimizing your route for the most efficient travel. The app provides detailed weather information along your route, allowing you to make informed decisions and avoid adverse weather conditions. In addition to the weather alerts, you can further plan your course using elevation, curves, and more.  InRoute also offers real-time traffic updates and alerts, ensuring you stay ahead of congestion and choose the best possible route. With its weather and elevation integration and user-friendly design, the InRoute app is a reliable companion for RV travelers seeking precise navigation, personalized route planning, and up-to-date road information. While some features are free, many key features require InRoute Pro which will cost $4.99 monthly or $39.99 annually.
RoadTrippers
The RoadTrippers app is a game-changer for RVers, offering a wealth of benefits that enhance the travel experience. This RV GPS app serves as an all-in-one travel planner, allowing RVers to discover interesting attractions, scenic routes, and hidden gems along their journey. With RoadTrippers, you can easily plan your itinerary by selecting specific points of interest, including national parks, RV parks, campgrounds, landmarks, and more. The app provides detailed information on each location, such as hours of operation, contact details, and user reviews.
One of the key advantages of RoadTrippers is its ability to calculate the distance and travel time between destinations. As a result, RVers can optimize their route and ensure a well-paced trip. Additionally, the app allows users to save their favorite places, create custom maps, and share their itineraries with fellow travelers. It also offers pre-made trip guides to help inspire your route. While the app can be used for free to plot up to 7 waypoints, Roadtrippers Plus costs $29.99 annually. This version lets you plot 150 waypoints per trip. Regardless, with its RV-specific routes and vast database of attractions, Roadtrippers is an invaluable tool for RVers seeking adventure and seamless trip planning.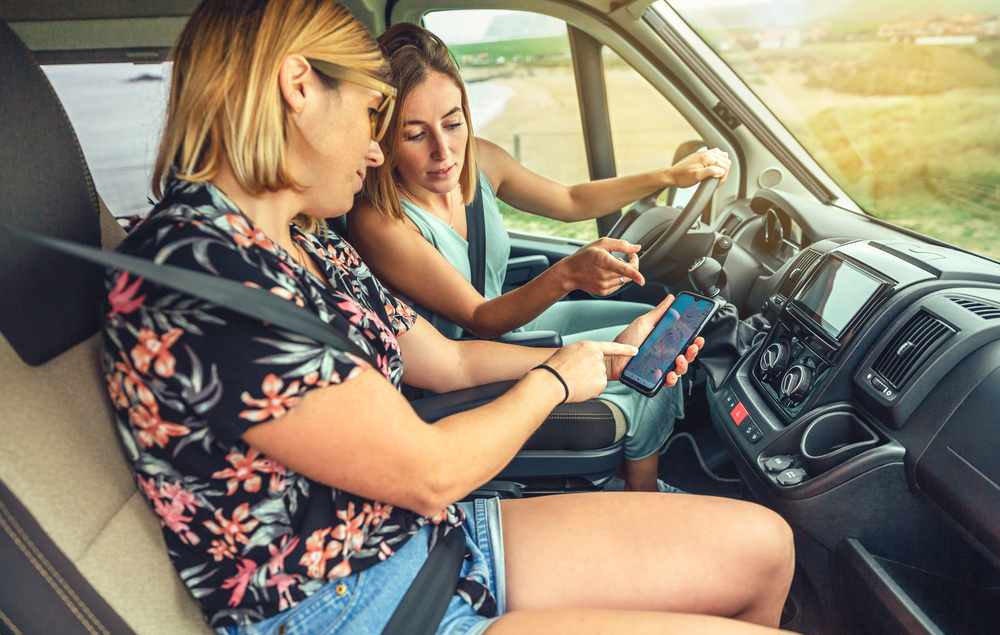 CoPilot RV
Designed specifically for RVers, CoPilot RV is an RV GPS app that caters to the unique needs of RV travel. One of its standout features is RV-specific routing, where you can input your RV's dimensions and weight to receive customized routes. CoPilot RV takes into account crucial factors like avoiding low bridges, steep inclines, and other road hazards that may not be suitable for RVs. With this app, you can confidently navigate the road, knowing that it has your RV's specific requirements in mind.
Another valuable feature of CoPilot RV is its offline maps functionality. You have the option to download maps ahead of time, allowing you to navigate even in areas with limited or no internet connectivity. This ensures uninterrupted navigation regardless of your location. Additionally, CoPilot RV provides real-time traffic updates, helping you stay informed about traffic conditions, accidents, and road congestion. By having access to this information, you can plan alternate routes and avoid delays. That's a big win in our eyes!
Furthermore, the app includes a comprehensive directory of campgrounds, RV parks, and essential services such as gas stations, rest areas, and dump stations. This makes it easy to find the amenities and accommodations you need while on the road. With its RV-specific features, CoPilot RV is one of our recommended RV GPS apps to enhance the RV travel planning experience. The app offers a 14-day free trial and then requires a subscription, which costs $29.99 a year.
What is the best free RV navigation app?
Google Maps
One of the best free RV GPS apps available is Google Maps. Yes, this tried-and-true option makes our list! Google Maps offers reliable navigation with detailed maps and turn-by-turn directions to ensure accurate navigation. Because so many drivers use it, it can use that data to provide real-time traffic updates. Because of this feature, you can make informed decisions and avoid congested routes. On top of that, Google Maps has voice guidance. You can rely on spoken directions which allows you to keep your focus on the road ahead. And, Google Maps has a Street View feature that is particularly valuable for RVers. Street view enables you to virtually explore your destination beforehand, evaluating its suitability for RV parking and maneuvering.
Moreover, Google Maps has an extensive database of points of interest, including attractions, restaurants, gas stations, and other relevant services. This makes it effortless to locate RV-friendly amenities along your journey. Google Maps is also advantageous when it comes to the frequency of updates and integration with other Google services. While it may not have specific RV-oriented features like customized routing or in-depth campground information, Google Maps is a dependable choice for RVers. With its widespread availability, user-friendly interface, and reliable performance it is a popular choice for RV navigation, especially for those looking for a free option.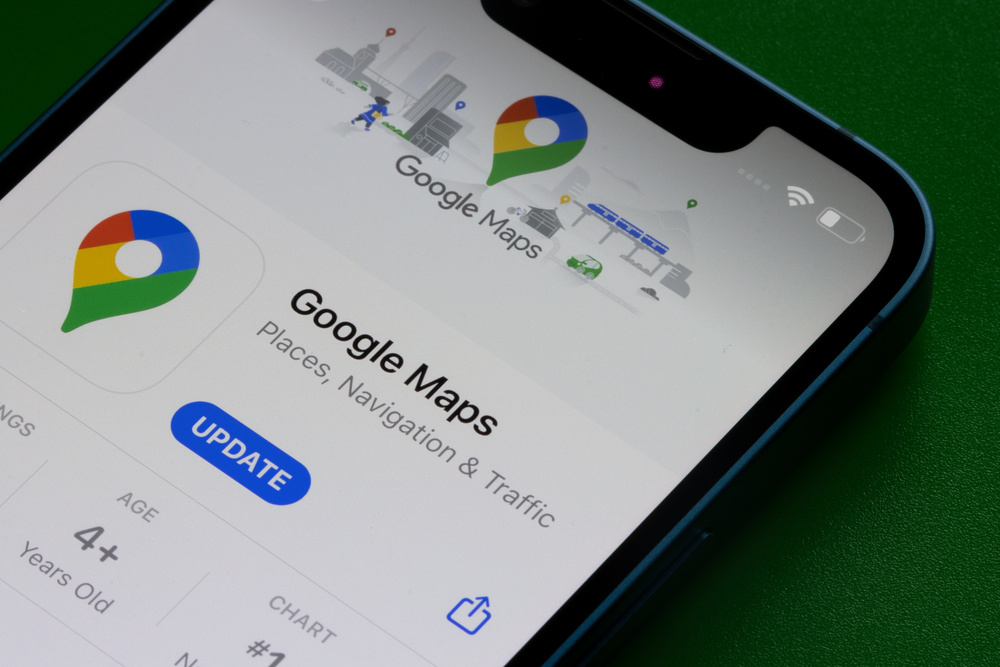 Waze
Another free navigation app popular with travelers is Waze. Although it is not specifically an RV GPS app, Waze stands out as a community-based navigation app. This app is known for its real-time traffic updates and the power of crowd-sourced information. With real-time traffic information at your fingertips, Waze keeps you up to date with the latest traffic conditions, accidents, road closures, and even police presence. This is great for RVers as it allows you to plan alternative routes and avoid delays. It also offers voice-guided navigation to help ensure you never miss a turn.
Waze goes beyond traditional navigation by harnessing the collective wisdom of its user community. With the ability to report incidents, hazards, or road conditions, you can contribute to the network of valuable information, benefiting fellow RVers and enhancing road safety. Additionally, Waze offers seamless integration with other apps, such as music streaming services or gas station finders, creating a convenient all-in-one experience for your travel needs. If you value input from the community to navigate and stay informed throughout your RV adventures, Waze is the best RV GPS app for you.
Which RV GPS app works best for you?
When it comes to navigation and the best RV GPS apps, having the right tools can make a world of difference in your travel experience. Whether you're planning a cross-country journey or exploring unfamiliar territories, these apps are designed to cater specifically to the unique needs of RVers. These apps can help you find and route to RV parks, campgrounds, resorts and camping across the United States. With these top navigation and RV GPS apps at your fingertips, you can confidently embark on your RV adventures, knowing that you have reliable guidance and access to essential services along the way. Say goodbye to getting lost or encountering unexpected roadblocks, and instead embrace a smooth, efficient, and enjoyable journey. So, choose the RV GPS app that best suits your needs, buckle up, and let these navigation companions lead you to unforgettable destinations with ease. Safe travels!
Ready to find an RV for your adventures?