Finding the ideal campground or RV park is a crucial aspect of planning a memorable RV adventure. Thankfully, technology offers a solution with dedicated campground and RV park camping apps. These apps provide comprehensive information about various campgrounds and RV parks, helping RVers make informed decisions based on amenities, availability, reviews, and prices. In this blog, we will explore the best RV camping apps for RVers, including Campendium, AllStays Camp & RV, The Dyrt, Harvests Hosts, and RV Parks & Campgrounds.
What is the best RV camping app?
Determining the best RV camping app depends on individual needs and preferences. Considering factors such as camping style, budget constraints, and desired amenities, it's important to recognize that there may not be a single app that fulfills all requirements for planning your RV travel. Exploring a combination of camping apps can offer a more comprehensive and tailored experience. Continue reading to learn more about the current RV camping apps available. We hope that this information will help you determine which camping app(s) will enhance your RVing adventures the most!
Best Camping Apps to Get the Most Out of Your RV Adventure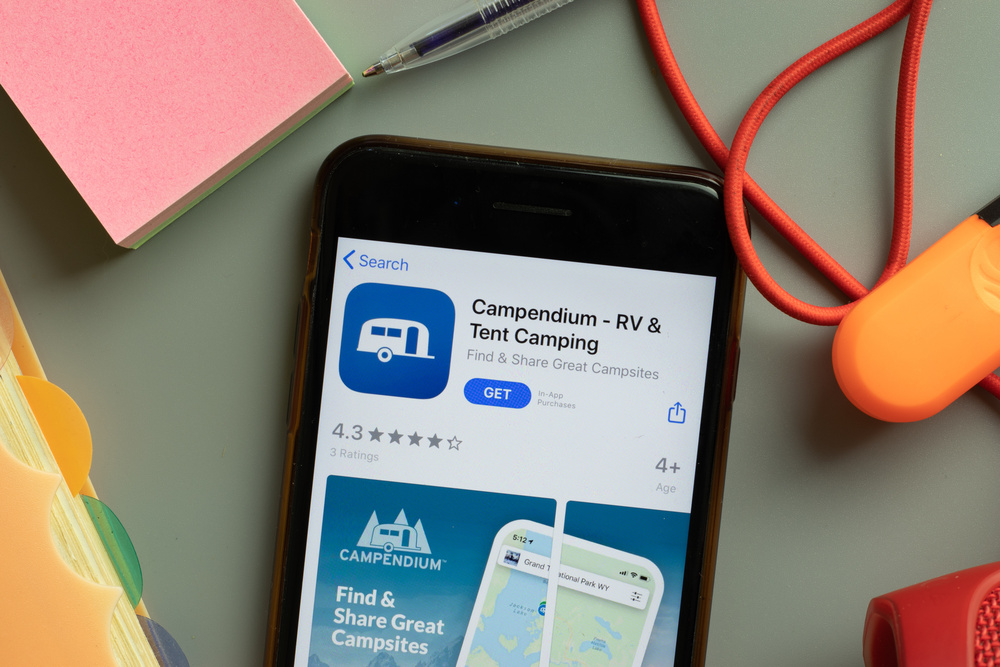 Campendium
Campendium is a popular camping app for finding and reviewing campsites across North America. It offers a wealth of information for RVers seeking the perfect camping spot. This camping app covers a wide range of camping options, including RV parks, public lands, and free camping spots. RVers can search for specific amenities and filter their results based on preferences like pet-friendly locations or free camping spots. This app includes features like GPS, offline access, and allows RVers to save their favorite campgrounds for future reference. Campendium allows RVers to share their experiences, recommendations, and tips for each campground or RV park. We love the RV community, and this is one of the best RV camping apps for RV life enthusiasts. This app is free to use but has in-app purchases for some features, including annual support ($23.99) and Roadpass Pro ($49.99).
AllStays Camp & RV
AllStays Camp & RV is a go-to camping app for many RVers. It includes information on tons of campgrounds, RV parks, and overnight parking locations. In addition, it includes filters for specific campground amenities, such as Big Rig access, dump stations, and Wi-Fi availability. RVers can access campground membership information, contact details, and reviews, making it easy for RVers to plan their trips efficiently. The app is readily available for Apple iPhone and iPad users through the App Store. Fees start at $4.99 monthly or $9.99 annually for the classic plan and increase for the AllStays Pro plan. As for other devices, AllStays Pro, accessible via allstays.com, caters to both Android and Apple users, as well as computers and laptops.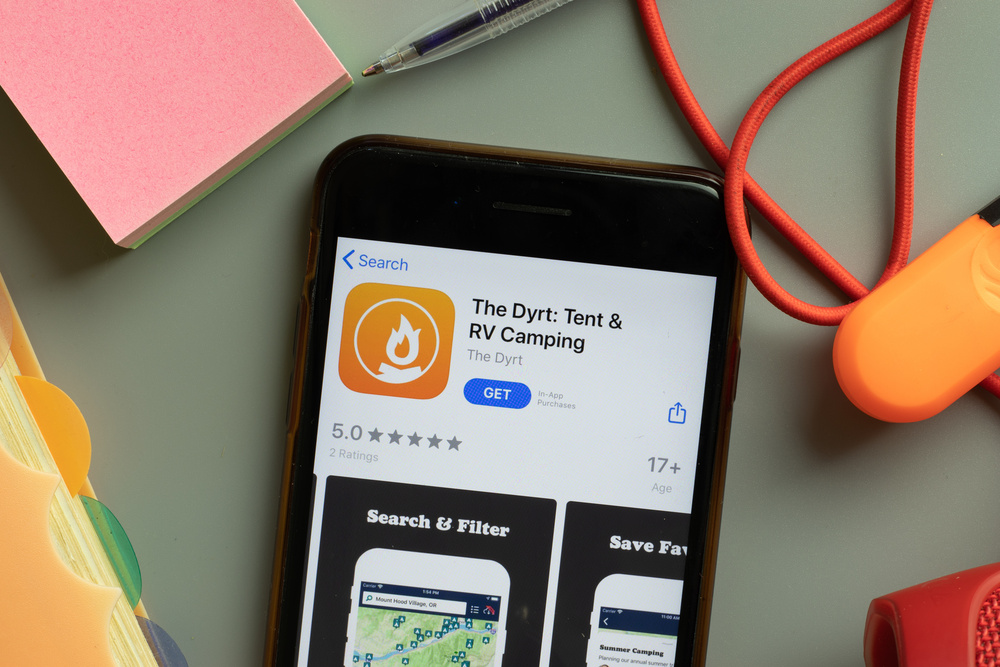 The Dyrt
Another well-known camping app is The Dyrt.  This camping app stands out as it is a community-driven platform that offers a database of campgrounds and RV parks. We love the community aspect of this app as it uses authentic reviews and photos provided by campers. On top of user-generated content, it further promotes community by allowing campers to share their personal experiences and recommendations. RVers can discover new destinations, read authentic experiences from fellow campers, and even book campsites directly through the app. The Dyrt Pro plan starts at $6.99 a month but you can try it for free when you download the app.
Harvest Hosts
The Harvest Hosts camping app is a must-have for RVers seeking unique and memorable travel experiences. This innovative app provides access to a network of enchanting and off-the-beaten-path locations where RVers can stay overnight for free. From vineyards and wineries to farms, breweries, and museums, Harvest Hosts offers a diverse array of destinations across North America. The app allows users to easily search and browse through the available host locations, read detailed descriptions, and view photos.
This app does require a Harvest Hosts membership and plans start at $99 a year. But by joining the Harvest Hosts membership program through the app, RVers gain access to this exclusive network of private camping opportunities. A Harvest Hosts membership will open doors to unforgettable adventures and the opportunity to connect with local hosts who are passionate about their craft. The Harvest Hosts app is undoubtedly a game-changer for RVers looking for unique experiences. The great news: by following our link you will receive 15% off!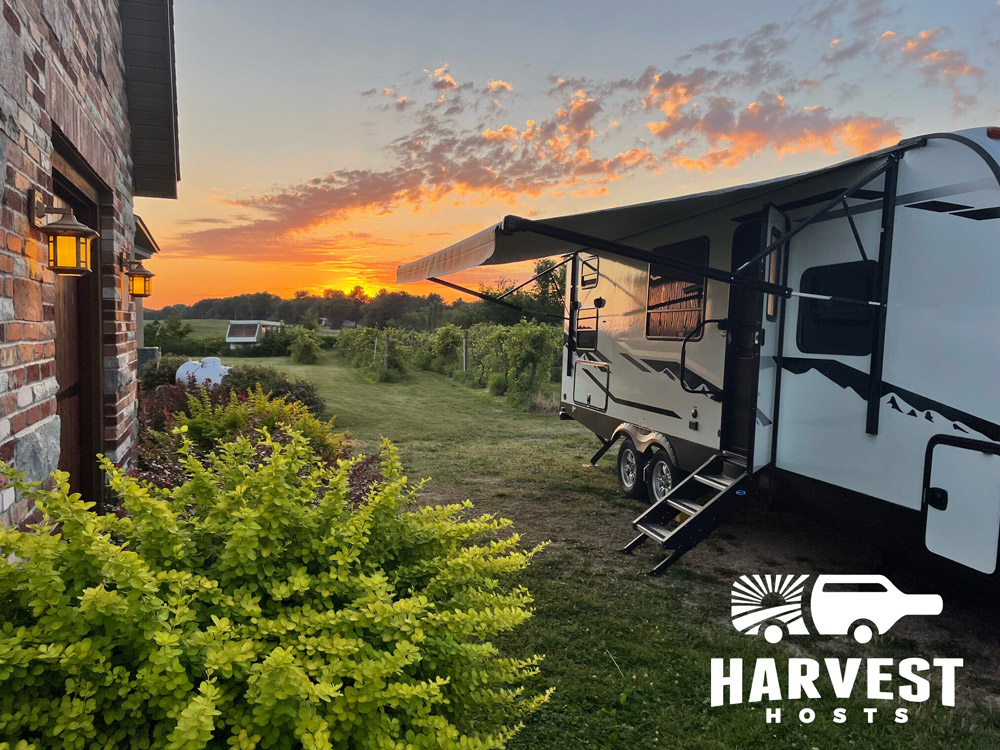 Boondockers Welcome
If you're on the lookout for an exciting boondocking experience, let us introduce you to Boondockers Welcome—a Harvest Host company that's all about creating unforgettable adventures. With a Boondockers Welcome membership, you're not just finding a place to park your RV; you're opening the door to new friendships, storytelling sessions, and a peaceful night's sleep—all while keeping your wallet happy by saving on campground fees. Just make sure your RV meets the self-contained requirements for membership, and you're good to go!
You can choose to join Harvest Hosts and Boondockers Welcome together as one membership or as separate individual memberships. Boondockers Welcome memberships costs $79 annually and members gain unlimited access to over 3,390 amazing host locations. That's practically the cost of a single night at a regular campground, but with the added charm and personal touch of private property stays. But it's not just about saving money; it's about forging connections, fostering a sense of community, and sharing unforgettable moments with fellow outdoor enthusiasts. So, whether you're longing to explore new destinations, immerse yourself in local hospitality, or create lasting memories, Boondockers Welcome is the perfect choice. With its extensive network of hosts, this RV camping app is revolutionizing the way people travel and camp. And if you join through RVUSA, you can save 15% off on your Boondockers Welcome membership.
What is the best free camping app?
Determining the best free camping app for RVers depends on the RVer's specific needs and preferences. However, one highly regarded camping app among the RVing community is RV Parks & Campgrounds.
RV Parks & Campgrounds
There's a reason RV Parks & Campgrounds is one of the top-rated and most downloaded RV camping apps for RVers for both Android and Apple users. This app is completely free with no ads and provides a comprehensive directory of RV parks and campgrounds across the country. It includes over 40k RV parks and campgrounds and detailed information about amenities, pricing, reviews, and contact details. It also lists public parks, rest areas, and even RV-friendly stores and stops, making it easier for RVers to find the perfect spot for their stay.
 Discover the Perfect Campground with One of the Expert-Recommended Best RV Camping Apps!
Researching great RV parks, campgrounds, resorts, and camping across the United States can be a challenge when on the road. However, finding the perfect campground or RV park is made easier and more convenient with the use of a great camping app. We hope our expertly curated list of the best RV camping apps helps you narrow the search for your future travels. Whether you're seeking a remote boondocking spot or a well-equipped RV park, these RV camping apps have you covered. Embrace the convenience of one or more of these camping apps and discover great camping destinations along your route. And if you haven't found the right rig for your travels, we can help. Search over 58,289 RVs, campers, motorhomes, fifth wheels, trailers and more for sale across the country on RVUSA.com!
Ready to find an RV for your adventures?
This post contains affiliate links. RVUSA.com will receive a small commission at no cost to you if you make a purchase using these links. We appreciate your support!