The sunny state of Florida is one of the most popular stops for RVers. While there are dozens of different ways to camp in Florida, from roughing it to staying on-site at a theme park, some RVers prefer a more high-end experience. The term "glamping" can refer to a luxury tent camping experience, often in a more permanent tent structure or yurt with many of the amenities of a hotel room. But we're talking about RV glamping.
It's the kind of RV stay that is loaded with more amenities than you can think of. Provides neatly landscaped grounds alongside modern clubhouses and sacrifices zero comforts. If this is your RVing style, luckily Florida is packed with luxury RV resorts that cater to RVers with a taste for the finer things in life. Read on for a selection of some of the most beautiful RV glamping spots in Florida.
It's not uncommon to find Bluewater Key atop "best of" luxury RV stay lists around the country. This popular spot in Key West has earned its reputation with tropical oasis style lots situated right on the water. Each site is unique, which means you'll find a different combination of tiki huts, bamboo structures, patio furniture, and even outdoor kitchens at each one. The bayfront lots and most of the canal lots come with private boat docks as well if you are also planning on bringing your water toys on vacation. The community area features a laundry facility, showers and restrooms, a dog park, and of course, a pool. It's the ultimate waterfront Florida experience!
To experience upscale Old Florida and still stay close to nature, head to Everglades Isle in south Florida. This RV retreat backs up to the Big Cypress National Preserve and is just down the road from Marco Island. Each site is landscaped with brick pavers and tropical foliage and provides access to the facility's many amenities. Play billiards, stay in shape at the fitness center, enjoy a night at the on-site movie theater, or treat yourself to a spa day at the on-site spa. You can also rent a golf cart to get around the property or a boat slip to go explore the 10,000 islands off the coast. Make sure you plan for time at the beautiful resort-style pool or to take a local tour on an airboat or sightseeing manatees!
Naples Motorcoach Resort bills itself as an "elite community" and sits in one of the wealthiest cities in the US, so you know you're in for a top-notch experience. The Spanish-style clubhouse has a beautiful pool along with pickle ball courts and a lake on-site. If that isn't enough waterfront for you, choose one of their canal sites that lines the waterway leading to the Gulf of Mexico. If you buy one of the canal lots, you can build your own dock to take advantage of the only resort direct access to the Gulf on Florida's west coast. There's also a boat launch on property, billiards, a ballroom, a private theater, and a fitness facility on site. One of their most popular events is their morning Coffee Klatch where you can enjoy complimentary coffee and breakfast and get to know your resort neighbors.
Just down the road in Naples, you'll find Pelican Lake Motorcoach Resort. This spot prides itself on the active lifestyle you'll find here. Choose from tennis and pickleball courts to nights with live music. It's a gated resort with lots arranged around a 35 acre stocked lake. It is highlighted by the luxurious clubhouse that features a dance floor, stage, catering kitchen, and library. Each site is unique as they're all privately owned. They can boast amenities as luxurious as a 300 square-foot coach-house. Purchase your own lot to customize or rent one for a weekend just to treat yourself.
To RV glamp in style in central Florida, check out Florida Grande Motorcoach Resort located west of Orlando and south of the popular retirement community The Villages. This peaceful RV escape gives you the option to build a Key West style "Grande Suite" coach house on your lot for an even more comfortable stay. The clubhouse game room provides billiards and ornate card tables as well as a catering kitchen, a stage and dance floor, which makes it perfect for events.
If a private island, waterfront views, wildlife lookouts, and elaborate coach houses sound up your alley, then River Landings in LaBelle, Florida is for you. This RV resort is situated on the banks of the Caloosahatchee River and feels both all-natural and upscale at the same time. The grounds feature a dock and a boardwalk to a private member island in addition to deep water access to the river that winds out to the Gulf of Mexico. What truly sets River Landings apart are the completely customizable coach cottages that can be up to 1800 square feet with an open-air kitchen and patio with a fireplace and a golf cart garage.
Beautiful RV Glamping Spots in Florida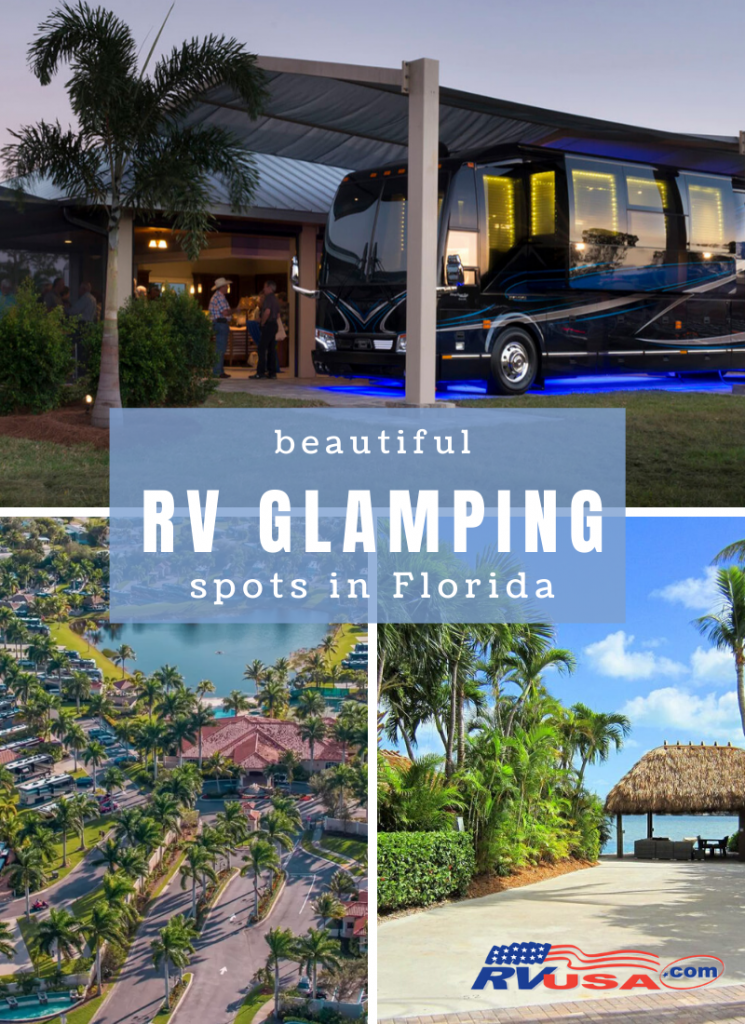 These RV glamping spots are so nice, they stand up next to almost any 5-star accommodation in the Sunshine State. Whether you're looking to splurge for a weekend or find an RV stay that sacrifices nothing (except maybe a little extra money), there's a place on this list for you. Most luxury stays require a motorcoach, so get started on your search for your perfect glamping rig by searching Class A RVs on RVUSA.com, and check out our blog for more RV travel inspiration.