Back in the day, this class A motorhome was one of the finest around. Even though it's put on a few miles since them, this 1985 Gulf Stream Sunstream 34 still has the class and appeal to be our Throwback Thursday Vintage RV of the week!
This 1985 motor home was, and still is, all about luxury. The interior includes velvet upholstered furniture that is designed for ultimate comfort. The classic wood natural oak paneling and cabinetry also bring a special warmth to the inside of this RV. The plush dinette has padded seating, perfect for intimate meals or family gatherings. There's also extra storage underneath the dinette seating, and the dinette folds down for extra sleeping space.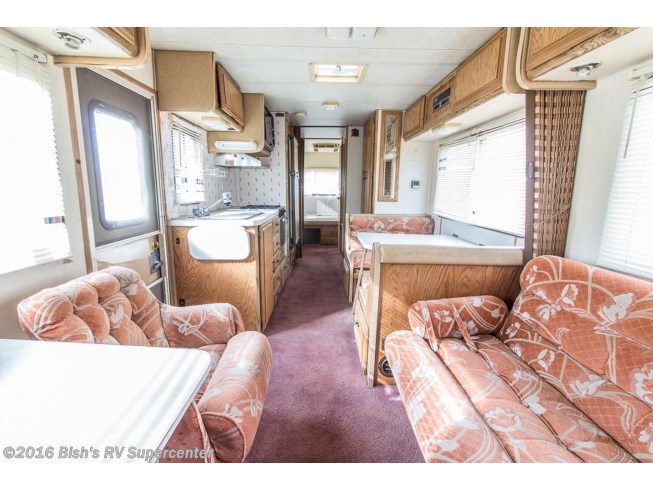 Gulf Stream motorhomes were not only designed to be top quality, but they also have plenty of storage space. Overhead galley cabinets and a large hall wardrobe give extra space for all your odds and ends while traveling. All your pots and pans will fit easily in the spacious kitchen, complete with 4-burner range with oven, large double door refrigerator and microwave.
This Class A was once the cream of the crop, and is still in excellent condition today. You can make this your new roadtrip hub for just $7,995 at Bish's RV Supercenter in Idaho Falls, Idaho. It you're interested in purchasing this RV, call 208-423-1202 or visit their website www.bishs.com.
For more Class A motorhomes, or other RVs, visit www.RVUSA.com to find the RV of your dreams! RVUSA is dedicated to connecting you with anything and everything RV! Check back on the blog every Monday for the Find of the Week, Tuesday for Travel Destinations, Wednesday for Dealer Spotlight, and Friday for Tips and Tricks. If you have any thoughts, memories or comments, leave us a message below!
If you'd like to receive our daily blog posts directly in your inbox, click here to join our free email list.
Save
Save