How to choose the right RV or camper for your existing vehicle is a hefty issue. The decision comes down to weight – with a few other factors thrown in.
Before we start, let's talk about some of the most common brands of campers that can be towed by your truck. When beginning your search, be sure to watch for these brands, as they are usually popular amongst campers and towers.
Can my Truck Haul an RV?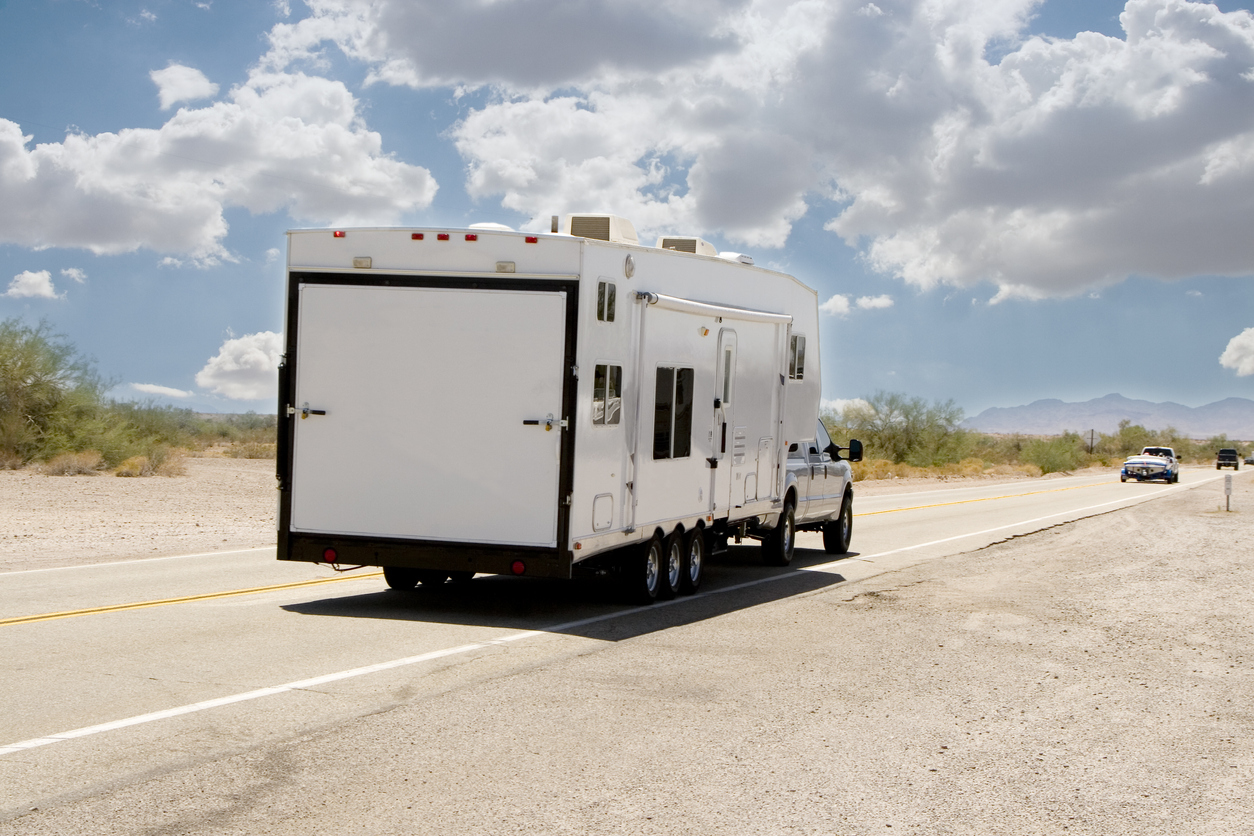 Yes, but only if the combined weight of the RV/Trailer does not exceed the towing vehicle's GVWR (Gross Vehicle Weight Rating), which is the total weight your vehicle can tow. A good rule of thumb is to stay under 80% of your max towing capacity. The weight of the camper is also named GVWR and can be found on our website under the vehicle specifications.
Where can I find my Vehicle Towing Capacity?
Start your quest to find the right trailer for your vehicle in the glove box where most vehicle owner's manuals are stored. Look for the "Vehicle Towing Capacity" in the manual. This is the manufacturer's specification of the weight the vehicle is designed to tow. Choosing a trailer that exceeds your vehicle's towing capacity will stress the vehicle's engine, transmission, and brakes beyond its design limits.

Compact and subcompact vehicles are best towed behind an RV rather than being the tow vehicle, although a handful is up to the task of hauling up to 2,000 pounds with the proper towing package. If your compact vehicle is rated for towing, then look for a trailer with its own electrical braking system to spare the wear and tear on the vehicle. Consider lightweight teardrops, micro-campers, or the smallest, lightest utility trailers.
In general, a mid-size vehicle and some family minivans or smaller SUVs may have the capacity to tow up to 3,500 pounds, or a small, lightweight camper, pop-up trailer, very small boat on a trailer, or a utility trailer. It's also important to think about horsepower when choosing the right towing vehicle. It's critical to remember that you also need a good amount of torque to get the load moving. (Horsepower keeps it moving and how fast you can move.)
To get you started, here are a few of the most common trucks that can easily tow!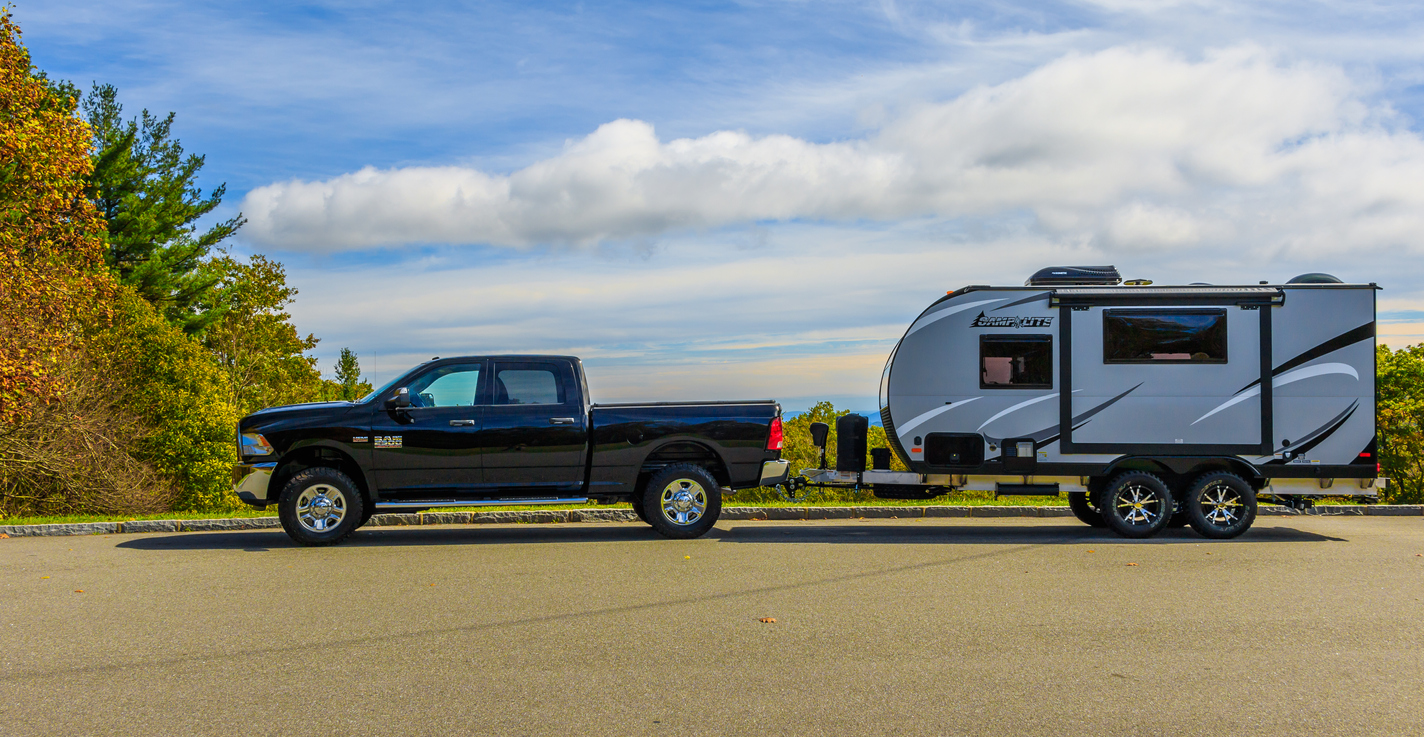 2020 Ford F-450 Super Duty. This truck can tow up to 37,000 pounds with ease and produces an impressive 475 horsepower and 1,050 pounds of torque – all from a 6.7-liter V-8.
2020 Chevrolet Silverado 2500 HD. Though smaller and less powerful than the Ford, this Silverado can still carry its own weight, if you don't need such a massive truck. It can still tow up to 18,500 pounds and can get most jobs done. This Forest River travel trailer can be towed with the Ford Super Duty or the Silverado.
2020 Ram 3500 Heavy Duty Pickup. This truck is best for towing a fifth-wheel or anything with a gooseneck hitch. A 6.7-liter Cummins combined with 1,000 of torque makes this truck stiff competition for any.
2020 Chevrolet Colorado. Though not as mean and mighty as those mentioned above, Colorado is still a great midsize truck that can tow quite a bit for its size. A 2.5-liter with 200 horsepower and 191 pounds of torque is what you can expect from the base engine, but consumers can upgrade to a larger engine if needed.
Honda Ridgeline. As a smaller truck, the Ridgeline still packs a punch and tows up to 5,500 pounds and makes 280 horsepower. It even has a great fuel economy of 22 miles per gallon. With a 3.5-liter V6 engine, you can't go wrong with the Ridgeline.
2016-2020 Toyota Tacoma. Another great choice in the realm of smaller trucks is the Toyota Tacoma. Coming in at 6,400 pounds, the Tacoma hauls a bit more weight than the Ridgeline, but it also has two engine options based on how much power you really need. If you want max capacity towing, you'll need to go with the 3.5-liter V6. Check out this Jayco Hummingbird you can tow with a Tacoma or a Ridgeline!
2020 Ford Escape. If an SUV is more your style, the Ford Escape tows up to 2,000 pounds with its 180-horsepower, 1.5-liter engine. A popup expandable is perfect for towing with an SUV like the Escape.
Do the math
Before purchasing, it's important to do the math when shopping for an RV. Trying to tow more than your truck can handle might lead to dangerous and expensive problems. Potential problems include brake failure, blown tires, a broken suspension, or overheated transmission. Many larger travel trailers, fifth wheels, and toy haulers can have a gross vehicle weight of more than 12,000 pounds fully loaded. They require a heavier duty truck that is equipped for towing.
Hopefully, this has helped steer you in the right direction of finding a truck that's best for towing your camper. Most manufacturers sell a truck that is up for the job. It's only a matter of you doing the research and finding what's right for you.