You've made the decision to be a snowbird who spends summers up north and winters down south – now, you just need the RV to match. Whether you're storing your rig down south and staying at your sticks and bricks home up north in summer, or you've chosen to live in an RV full-time chasing down the best weather in every season, choosing the right type of RV for you is an important decision. From Class A to pop up campers, there are pros and cons to each type. We'll help you get to know the different kinds of RVs so you can decide which type of RV fits the snowbird lifestyle you want to live.
Class A Motorhome: Living large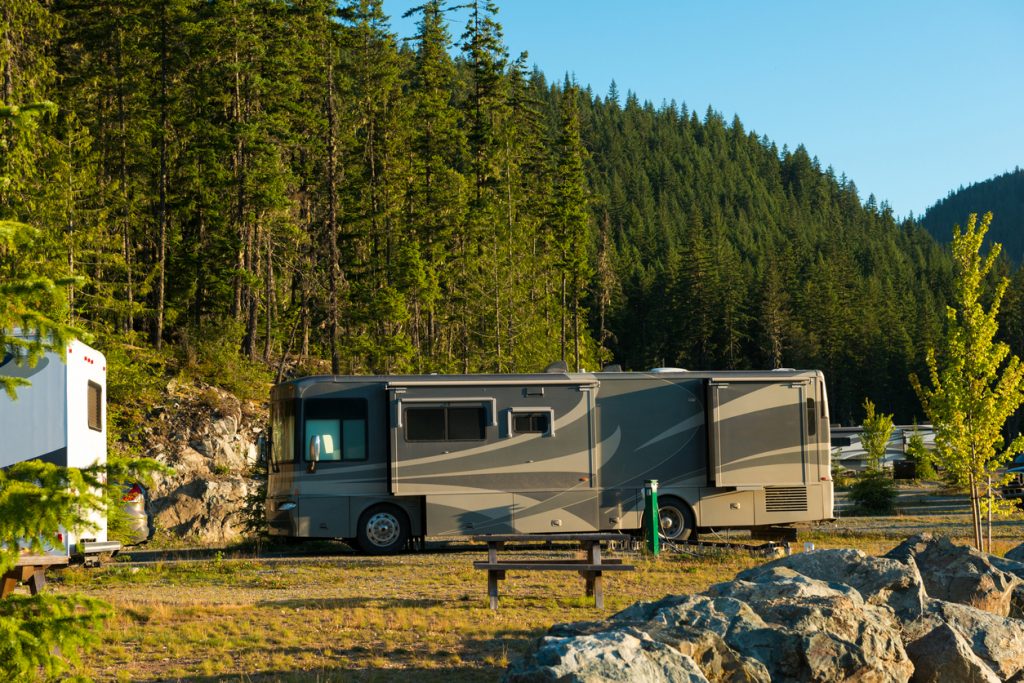 This is the type of vehicle most people picture when they think of RVs. It's your classic coach motorhome, where you won't need a tow vehicle and the engine, cab, and living quarters are all contained in one place. If you plan to live large as a snowbird and sacrifice very few conveniences, then this is likely the right type of RV for you. High-end Class A rigs can cost just as much as sticks and bricks house, and in some cases, they can be even more luxurious. This rig works for those who plan to spend at least some of their time in RV resorts while they're on the road, as some high-end stays require a Class A motorhome or have length requirements that rule out every other type of RV. This type of RV is for the snowbird who prioritizes comfort above all else and isn't afraid to pay a little bit extra for it.
Fifth Wheel: Comfort and convenience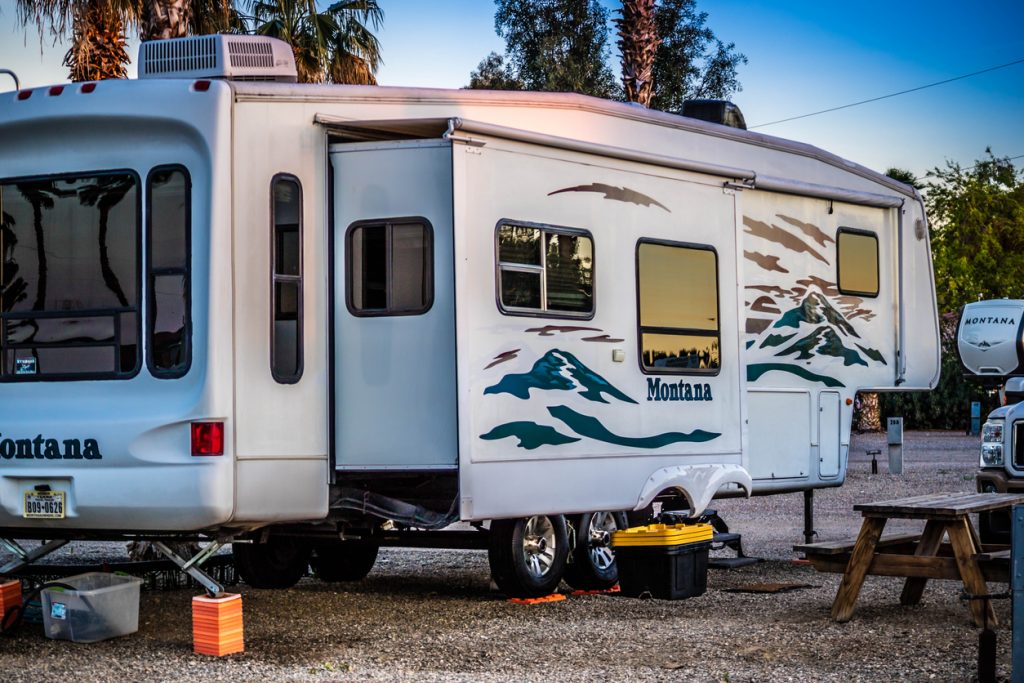 If you've got a pickup truck and a will to hit the road, then you can't go wrong with a fifth wheel. Because of the unique gooseneck shape of this type of RV, your tow rig has to be a pickup truck. The advantage is that it adds the possibility of multi-level living to your floor plan, which you won't find in other types of RVs. This can allow you to feel like the different areas of your home-on-wheels are separate from each other, so it feels more like a "house." Because you are using a tow vehicle, you can park your RV at the campground and then use your truck to get out and explore the surrounding area without having to unhook or deal with the hassle of finding RV parking everywhere you go. There's also a wide range of prices and levels of luxury within the fifth-wheel category – some can rival the posh-living style of Class A rigs, while others provide just enough comfort and convenience to fit your budget.
Travel Trailer: A happy medium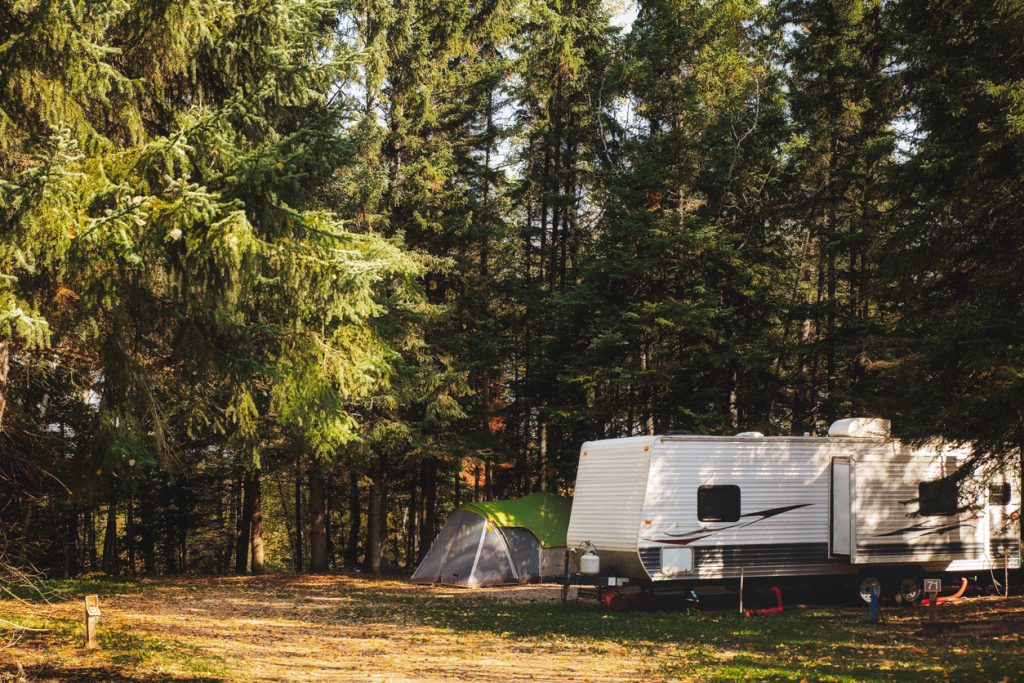 No matter your camping style or budget, there's likely a travel trailer out there that fits your needs. Travel trailers are the "Goldilocks" of RVs – not too expensive, not too bare essentials, doesn't overdo the bells and whistles, but also doesn't sacrifice too many conveniences. You also get to enjoy the same perk of fifth wheels where you can park and use your tow vehicle to explore, but with the added bonus that some travel trailers can be towed with SUVs as well.
Class C Motorhome: Small but mighty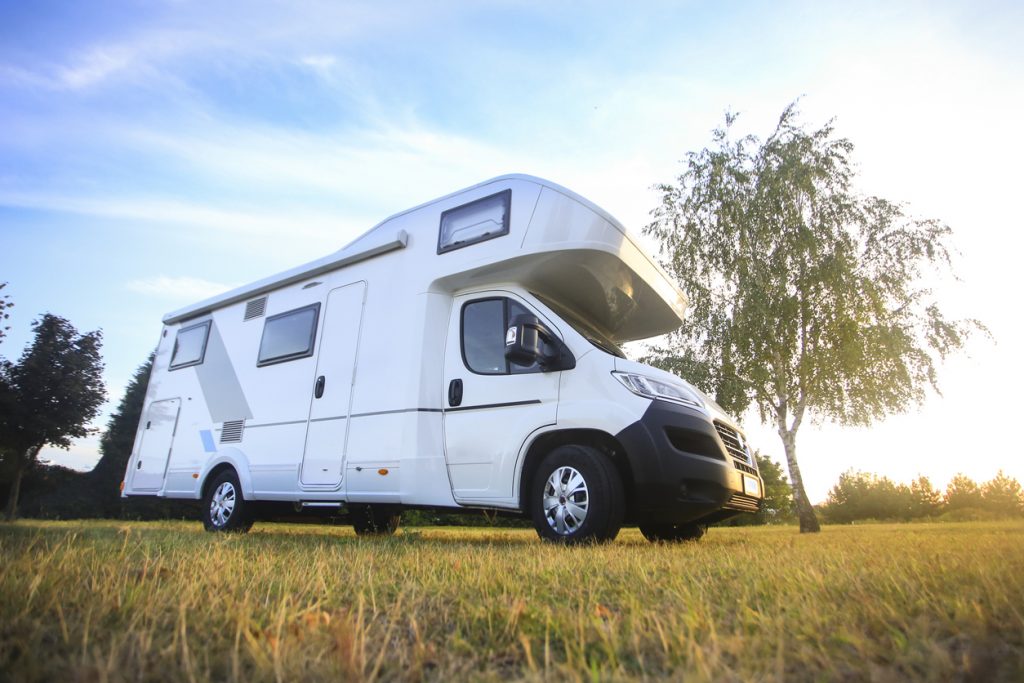 This type of RV takes the perks of motorhome living and shrinks it down into an easy-to-maneuver package. No tow vehicle is needed, and your floor plan will take advantage of the extra space over the cab, usually for extra sleeping quarters. If it's going to be just you, or just you and your spouse traveling during your snowbird months with the occasional visit from the grandkids, this smaller rig is a good option. Because of the size, you won't run into issues with campgrounds who have maximum length restrictions, and you won't need much expertise to drive one of these. While they are small, most Class C rigs have full kitchens and carefully planned storage so you still have everything you need, just contained within a smaller living space.
Pop Up Camper: One with the outdoors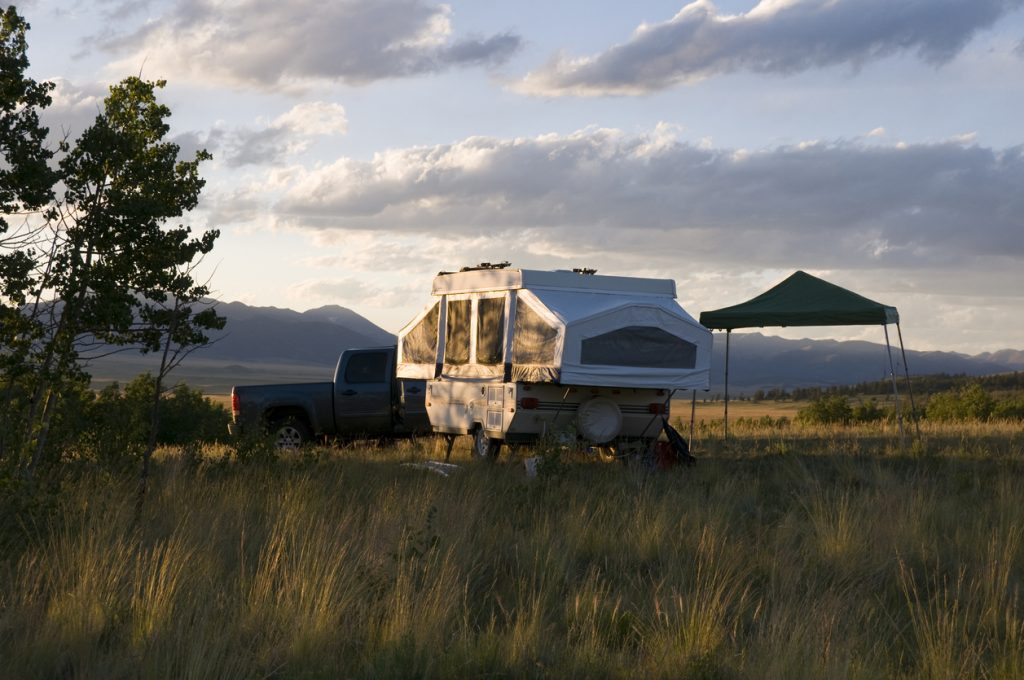 This towable is for the snowbird who loves tent camping but wants to kick it up a few notches. They're incredibly lightweight and easy to tow, so they also work for those who may feel hesitant to get behind the wheel of a large motorhome or learn how to navigate a long rig like a fifth wheel. These rigs do take a little extra time to set up once you get to your camping destination, but they're very affordable. You can choose a hard-sided A-liner camper which will protect you from the elements, both hot and cool, or you can choose a traditional pop up with mesh sides that expand like a tent when you get to your campground. While these often come equipped with some kitchen appliances, not all of them include a toilet or shower. If you're going to be spending a ton of time in your RV, we recommend going a different route. But if you're comfortable with a shorter trip down south and finding campsites that provide bathroom and shower facilities, then a pop up could work for you.
Class B Motorhome: The simple things in life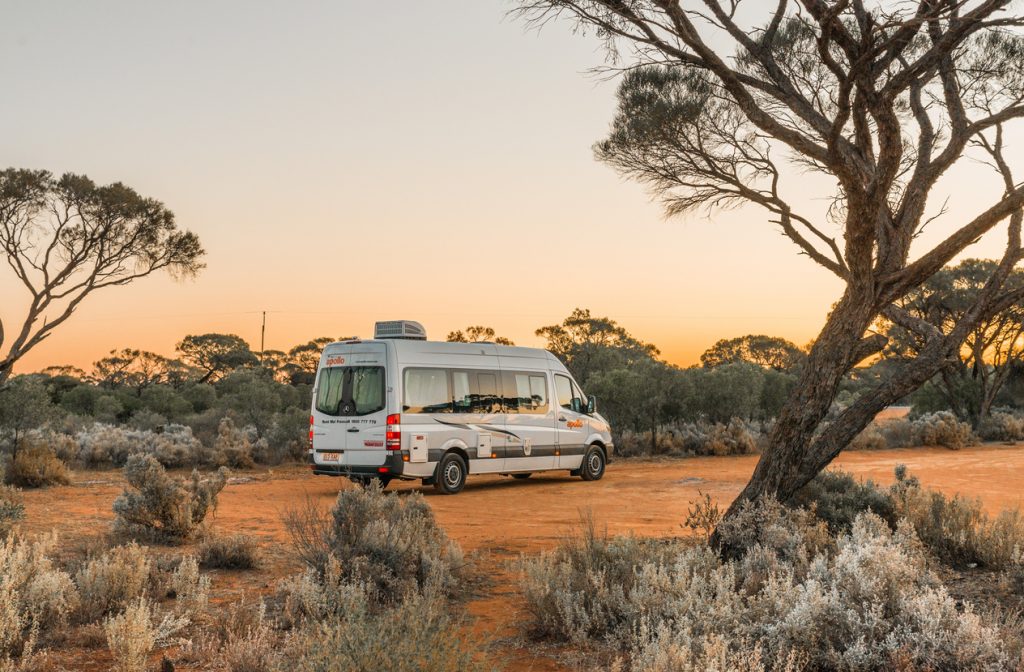 Also known as camper vans, these are the trendiest travel vehicles among the younger crowd these days. Many people who purchase camper vans do so with the intent to gut them and completely renovate the inside with modern interior, and then spend their time hopping from one state or national park to the next. If you're a DIY kind of snowbird, a camper van could be the perfect project for you! However, you'll have to be comfortable with living a more simplistic lifestyle, as there's only so much room inside a Class B motorhome. These don't tend to be very popular among the snowbird crowd, but if low-maintenance living sounds like your style, it could be a fit.
Which Type of RV Fits Your Snowbird Lifestyle?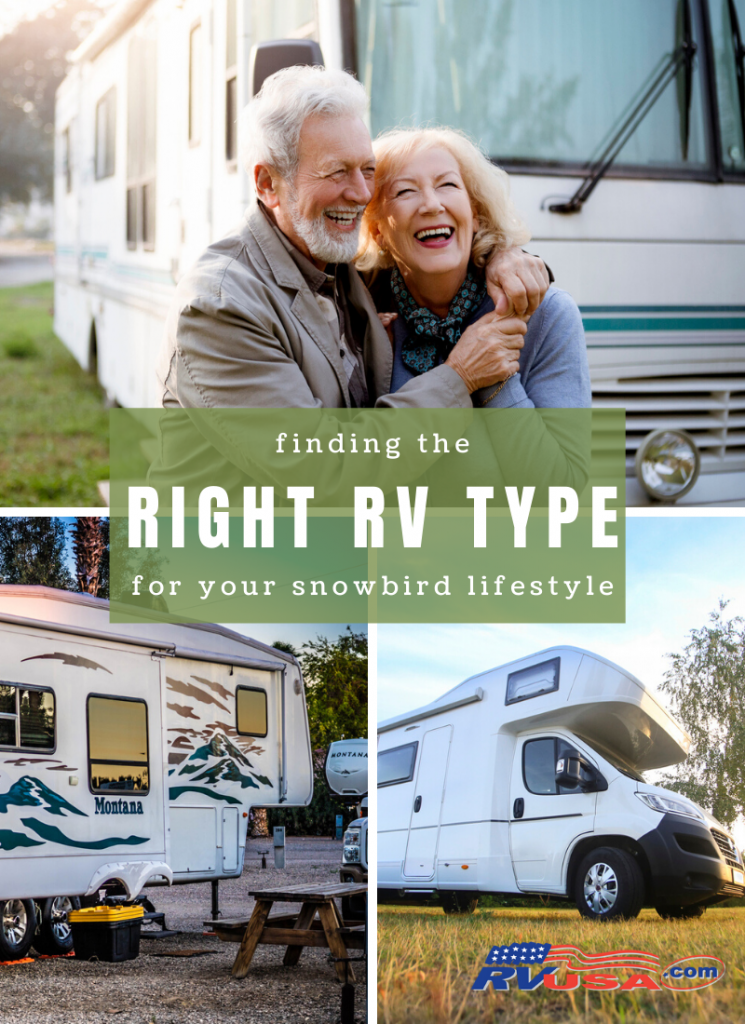 No matter your camping style, there's a type of RV that's meant for you. Whether you enjoy the finer things in life or you want to lay low and keep it simple, your perfect match RV is waiting for you on RVUSA.com. Get started with your search for an RV to fit your snowbird lifestyle today!