Ready to see more of the best RV parks in every state? Check out our list of the best RV parks from Louisiana to Wyoming. If you missed the first half of this list, you can see the best RV parks from Alabama to Kentucky here.
Have you ever stayed at an RV park with a lazy river? This upscale RV park just north of Lake Ponchartrain provides that and so much more. Visit the tiki bar, play some games at the arcade or kayak in the on-site lake.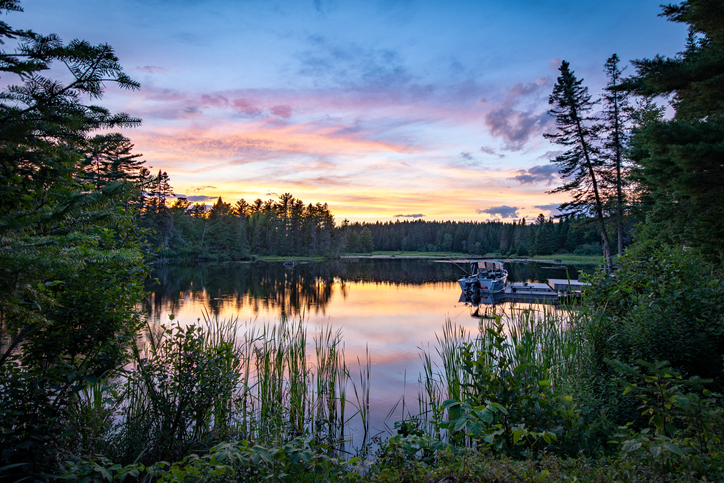 The northeast part of the country boasts just one national park, and if you're in the area you'll definitely want to spend time at Acadia. The Schoodic Woods Campground provides water and electric hookups in the heart of this coastal Maine paradise.
You may not think of Maryland when you think of a beautiful beach oasis campground, but that's what you'll find at Castaways in Berlin. Top Gun Water Sports offers jets and kayak rentals, while the private beach on site is stocked with a snack shop and a tiki bar.
This luxurious but family-friendly RV resort in Foxborough has received countless accolades on "best of" lists. When you visit, you'll see why – a beautifully appointed recreation lodge, a bike park, dog park and four swimming pools. You can also take part in crafts, yoga, and movies at the Creative Arts Center.
There's no place like "Up North" in Michigan, and this top-of-the-line RV resort is the best place to experience it. Set on 26 acres just outside of quaint downtown Petoskey, you'll feel right at home with a grand community lodge, pool, gardens, golf, and tennis courts.
Bask in the rustic charm of the Minnesota countryside while benefiting from all the luxuries of a high-end stay at this RV resort in Bluff Country, Minnesota. There's a full restaurant inside their 130-year old historic barn as well as fishing, tubing, and biking along the nearby Root River.
This Biloxi, Mississippi resort prides itself on its beautiful oak trees and southern hospitality. Spend time under the foliage and make use of the park's casino shuttle service.
Stay right next door to all the activities in downtown Branson while still feeling the serenity of a wooded escape at Branson Shenanigans. The park also helps with booking theater reservations and provides discount tickets to some shows so taking part in local entertainment is a breeze.
Nestled between three different national forests, this resort prides itself on being Montana's top-rater motorcoach resort. It calls itself the Gateway to Glacier National Park, but you don't have to venture outside the park to enjoy the natural beauty that surrounds it.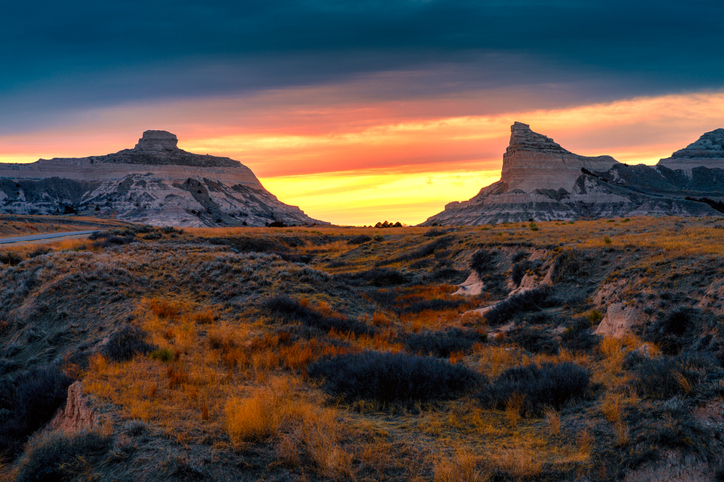 Robidoux RV Park is the perfect place to stay when visiting one of Nebraska's best sites, Scotts Bluff National Monument. Located at the base of the bluffs, this park includes 42 paved pads and patios with full hookups.
Leave it to Las Vegas to have the most luxurious desert oasis for RVs out there. Its 41-acres is covered in over 1000 palm trees with landscaped coach sites and full hookups. In addition to the top-of-the-line amenities on-site, you're also just a short distance from all of the entertainment on The Strip.
This beautiful campground is tucked away in the pines of New Hampshire's White Mountain region. The swimming pool has water slides for the kids and the park often hosts bike rides through the area's wooded trails.
Most visitors to New Jersey want to see the Jersey Shore, and Seashore RV Resort is just the place to stay. It's 90 acres of padded sites with full hookup options just a short distance from quaint downtowns and serene beaches. If you don't want to venture out to the beach, you can sunbathe in on the sandy on-site lakeshore.
Not only does this RV resort in Las Cruces have stunning views of the Organ Mountains, but each RV site is beautifully appointed with privacy hedges and full hookups. You're also right around the corner from the vast expanse of White Sands National Park.
This RV park has just about every amenity you could ask for, yet still feels like a fun camping trip in New York's most popular lake destination. Each campsite has full hookups as well as a picnic table and fire pit, and the location is the perfect launch point to all that the Lake George area has to offer.
The Blue Ridge Mountains of North Carolina are a must-visit, and you won't find better accommodations than Mountain Falls. It's a luxurious mountain getaway near Lake Toxaway that boasts a golf course, tennis courts, two swimming pools, and organized activities for guests.
If you're a national parks fan, you'd be remiss not to camp out in the park named after the president who did so much for our natural resources. There are no hookups here, but Juniper Campground in the north unit of the park makes up for it with its closeness to natural beauty and river views.
Located in the heart of Amish Country, Evergreen Park RV Resort has everything you could ask for from an RV park. Take in the scenery of the rolling hills with full hookups, paved pads, and organized activities. There's even an indoor pool so you can enjoy the water even in the cold winter months.
The blue waters of Lake Murray make up most of Oklahoma's largest state park, and By The Lake RV Park Resort is the best place to stay to be close to all it has to offer. Head to Lake Murray State Park or find nature trails and a fishing pond on-site at the RV park.
You may find a more luxuriously appointed RV park elsewhere in Oregon, but you'd be hard-pressed to find one with better views. This quaint inn in Garibaldi Harbor has an RV park as well with full hookups and waterfront views. You also get to enjoy all of the amenities the inn offers, including local coffee, a fireplace, and recommendations on the best crabbing in the area.
If you're a fan of chocolate (and who isn't?!), you'll want to head to the official RV park of Hershey Park, the chocolate-themed theme park in Hershey, Pennsylvania. Even though the RV park is right next door to the attractions, it's still beautifully wooded and feels like a getaway. There are also exclusive theme park perks included if you stay here.
This quaint woodsy campground allows you to stay just 5 miles from Newport while still feeling rested in natural surroundings. There are full hookups, hiking trails, and fishing on-site, as well as volleyball, basketball, and an open-air pavilion. You aren't far from the ferry to take a day trip to Block Island, one of Rhode Island's most beautiful sights to see.
Myrtle Beach is a popular vacation destination, and you can enjoy it in style at Carolina Pines. It opened in the fall of 2019 so everything is brand new, including the elaborate arcade room, bowling alley, splash water park, pool cabanas, playground, and mini-golf.
If you're heading to South Dakota, you're most likely making a stop in the Black Hills. Whether you're visiting the Badlands or Mt. Rushmore, Elkhorn Ridge is the place to stay. You won't lack luxuries here with full hookups, a coffee shop, a general store, sports courts, live entertainment, and a nearby golf resort.
Imagine waking up to a view of serene lakefront views with rolling mountains in the distance. That's what you're in for at Anchor Down RV Resort in Dandridge. You'll have luxury amenities and also be conveniently located in Knoxville, Pigeon Forge, and Gatlinburg.
You may imagine infinity pools as something out of a travel magazine advertising exotic destinations, but you'll find one here at Mill Creek Ranch Resort in Canton, Texas. The RV park entertains guests with live music, food, and a full bar in the community center, catch and release ponds, and paddle boats. The grounds are so nice in fact, they host weddings.
With Utah's Mighty 5 national parks all within a day's drive of each other, it's an RVer's dream. There are tons of options around these 5 parks, but we're partial to the 3rd-most visited national park in the US, Zion. Zion River Resort is the perfect launching point to see this natural beauty while still enjoying high-end amenities that feel like home.
Lake Champlain is a must in Vermont, and Apple Island Resort is in the heart of it. They cater to RVs and have their own golf club, general store, and marina. If you want the full experience, rent one of their "Apple Carts" golf carts to explore the island.
Take in the Chesapeake Bay area of Virginia at Bethpage Camp-Resort. It's a beautifully landscaped coastal-themed park where you can spend embrace a love of the water with paddle boats, kayaks, and a water trampoline in the on-site lake. You can also have some fun with mini-golf and a water park before exploring the historical towns nearby.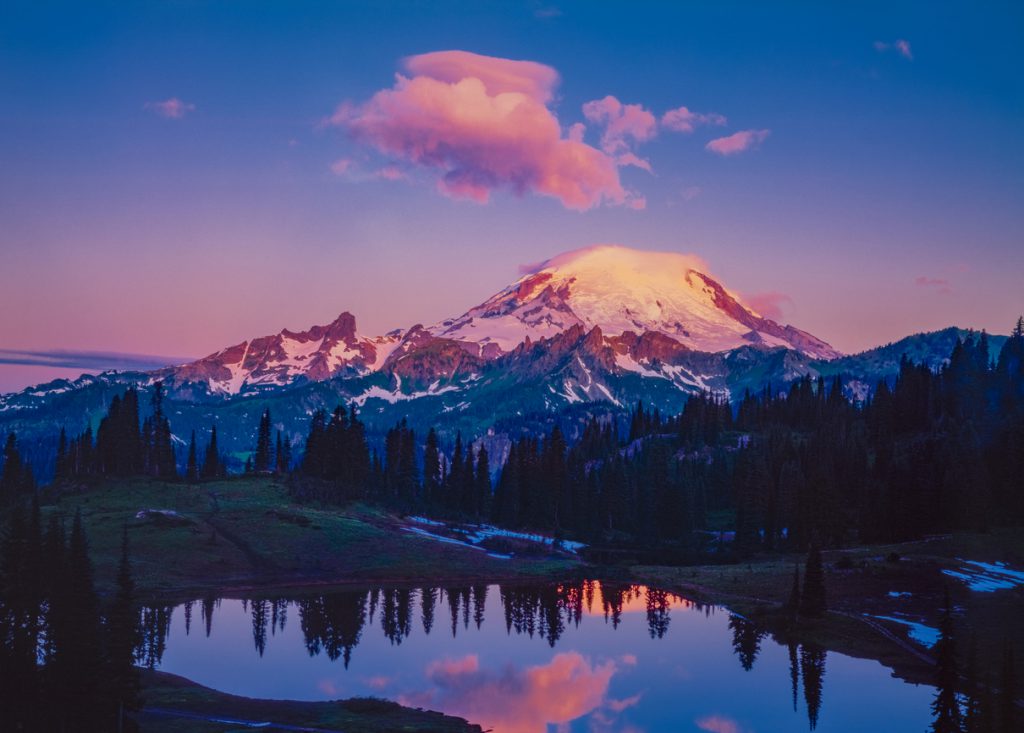 This is the quintessential Pacific Northwest getaway. Situated just outside of Mount Rainier National Park, you're tucked away in the quiet of the trees yet just around the corner from a big adventure. And you still don't have to sacrifice convenience. All RV sites are full hookups with a picnic table and fire ring.
You can't do West Virginia without the mountains, and this retreat gives you that and a beautiful lakeside. You can even climb the park's lighthouse for 360-degree views of the surrounding area. Plan a trip during the fall to enjoy the vibrant foliage.
If you're looking for a countryside escape in Wisconsin, you'll find it at Rustic Barn RV Park in the tri-state area. It feels more like staying on a friend's farm than at your typical RV park. And yes, there is an actual rustic barn on site that serves as the camp office, store, and gathering room.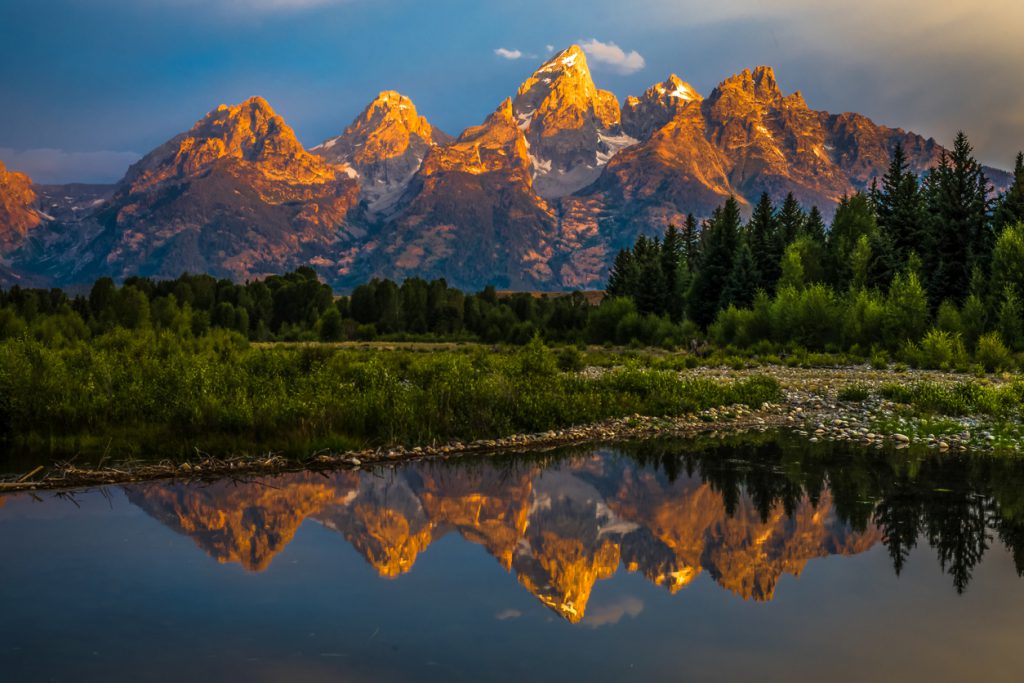 It's tough to choose between Yellowstone and the Grand Tetons when you visit Wyoming. At Fireside, you don't have to. This park is situated in the Buffalo Valley between the two. Their slogan says it all: "bring your RV, we'll bring the view."
The Best RV Parks in Every State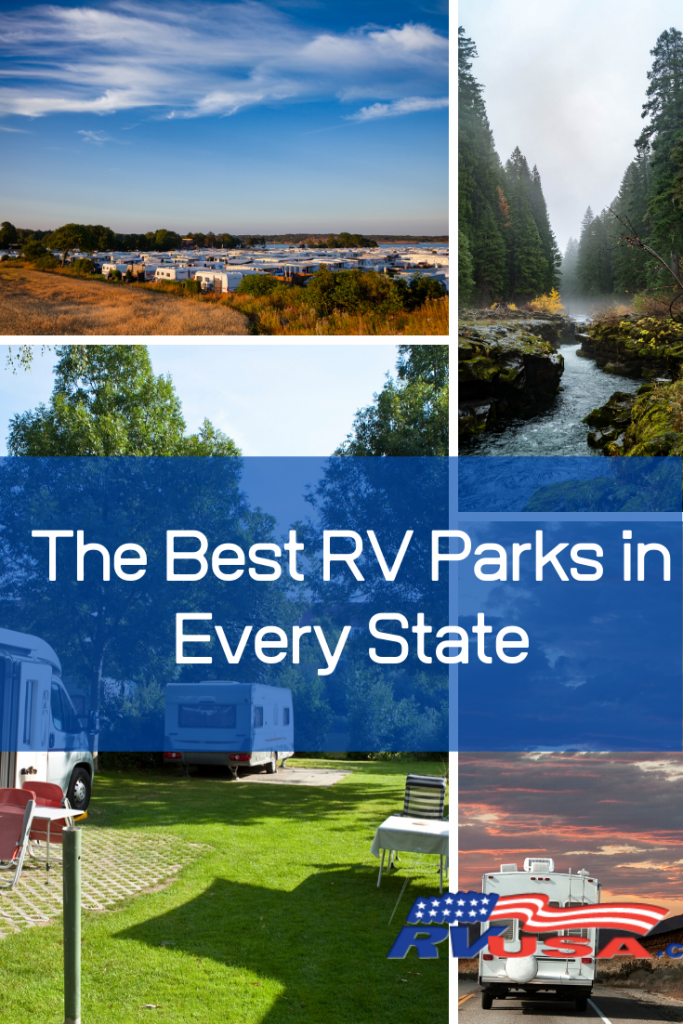 Clearly, there are RV adventures to be had all across the US. Hopefully, this list can help get you started with planning your next trip and inspire you for the future. Be sure to check out our blog for more of our tips on the best places to see in your RV.