If you're an avid RVer, you spend more than a few nights a year sleeping in your RV. For some, your RV bed may even be the only bed you call home. When you consider how many nights you rack up resting here, you begin to see just how much of your overall sleep quality is affected by the quality of sleep you get in your RV. You invested a lot of money into your RV hobby, and you should feel rejuvenated after a week on the road! Unfortunately, the standard RV mattress that comes from the factory often doesn't lend itself to rejuvenating sleep.
And if you bought your RV used, it's possible the factory mattress has been worn out from years of prior use. If you're considering an upgrade (and you probably are since you clicked on this article!), we would encourage you that investing in your quality of sleep in your home-on-the-road is well worth the cost.
However, finding a good RV mattress can be an overwhelming task. How do you know what fits? How do you pick one that's right for you? Are mattresses that come in the mail legit? There are so many questions that come along with this process, so we've created this guide to upgrading your RV bed to help you out.
Measure Your Current Bed
The most important thing you should know when you start mattress shopping for your RV is that RV beds are NOT the same size as regular beds. An RV queen for example, is shorter than your typical queen bed. This means picking out an RV bed is not as simple as stopping in at your local mattress store. Often, RV dealers will sell accessories like mattresses, but with the internet at your fingertips, you don't necessarily have to go to a dealership to find a mattress that fits. The best way to know beyond a doubt if the mattress will fit is to measure your current one and compare its size with the ones you're checking out online. There are even brands online where you can custom order your dimensions.
Create a Plan for Mattress Removal and Replacement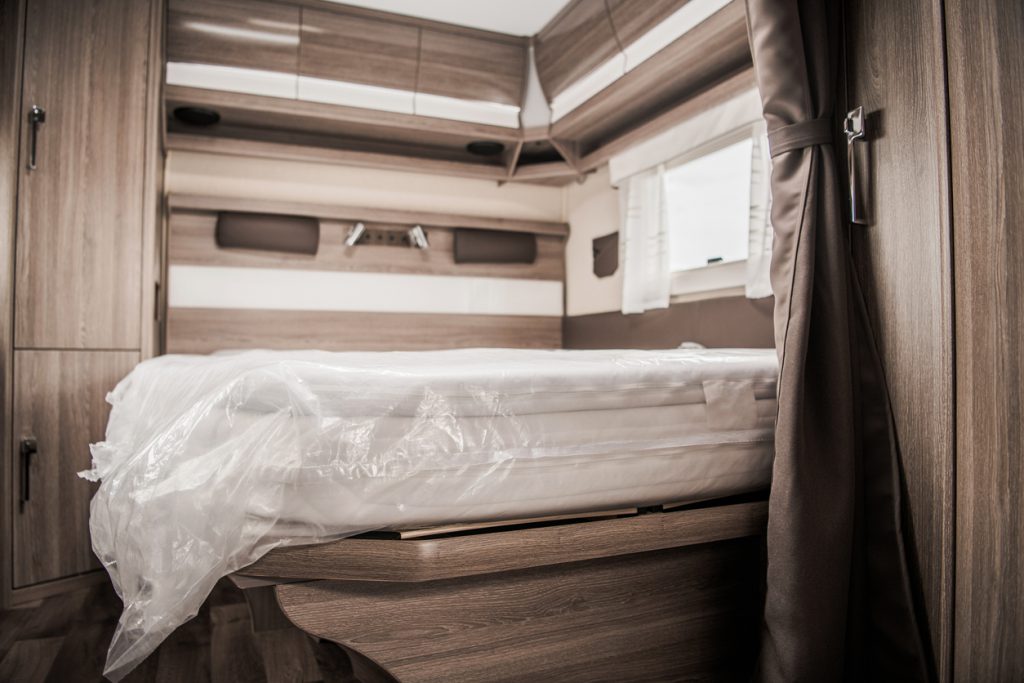 To state the obvious: there's not a lot of space in an RV. This makes moving large items around in the confined quarters quite complicated – mattresses included. Your RV may have even been built around your RV bed already in place! Be sure to consider how you are going to remove the old mattress from the space, as well as how to get the new one through the front door.
There will likely be a lot of "Pivot!" a la Ross on Friends, but the main thing is to make a plan. Some people end up having to cut their old mattress in two in order to get it out of the space. Try to get familiar with the flexibility of your new mattress before bringing it in. Also, it's important to be aware of your area's mattress disposal laws. In many places, it is against the law to leave a mattress on the side of the road for sanitation workers to pick up or to leave it in a dumpster. You may have to get a mattress disposal tag to get rid of it – just look up the laws in your local area.
Don't Be Afraid of Mail Mattresses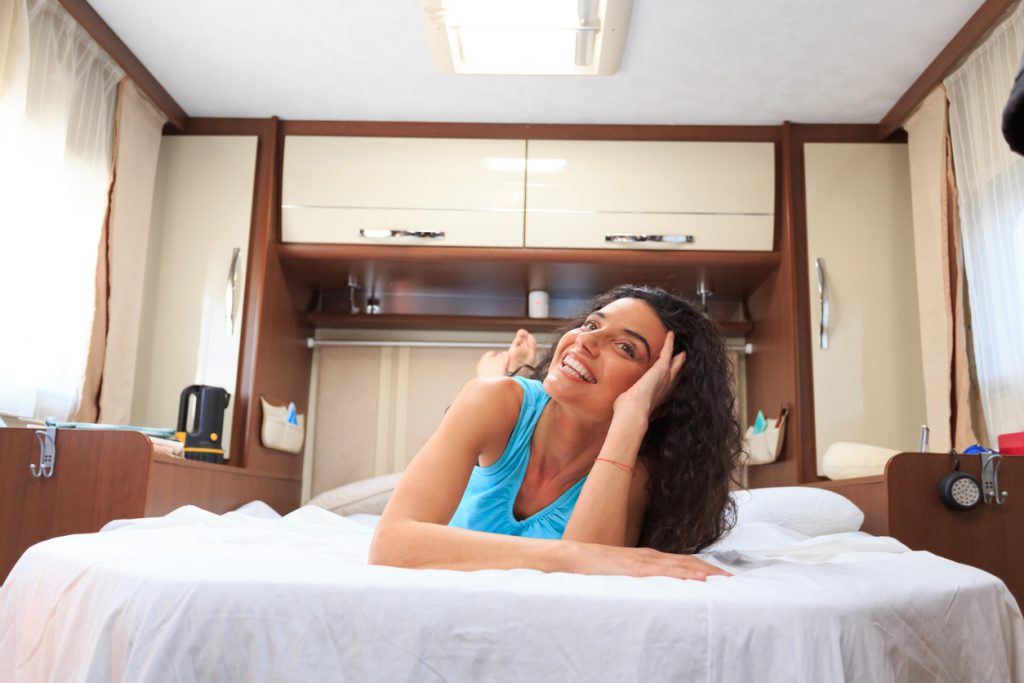 The solution to the issue of fitting a mattress through a small doorway might just be in a mail mattress. Companies without brick-and-mortar stores that ship your mattress straight to you are everywhere these days, and people are increasingly relying on these brands that offer a departure from the conventional. It's for good reason: if you do your research, you don't have to sacrifice comfort for the convenience of a vacuum-packed mattress showing up on your doorstep.
The mattress will arrive in a box that will have you doubting whether an actual mattress could really fit in there, and from there you'll be able to take the plastic vacuum-sealed package into the RV bedroom to open and unfold it. Once unwrapped, it will take a little while for the mattress to relax into its intended shape, but this mail mattress process could save you a lot of time and trouble.
Consider Chemicals and Off-Gassing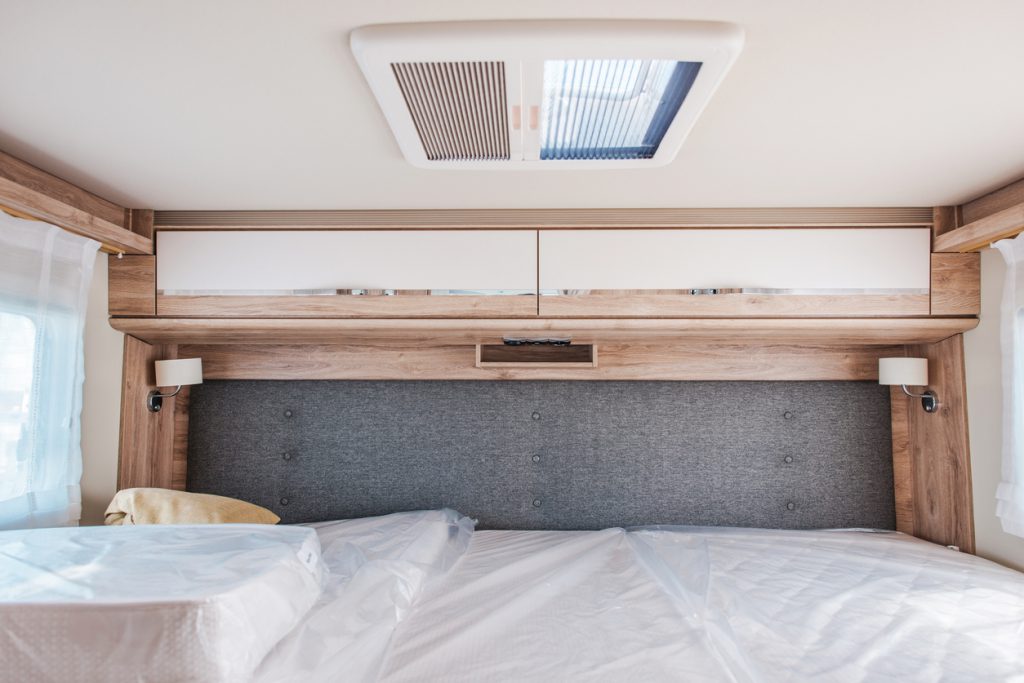 If you're into greener alternatives as many who love the outdoors are, you may want to think about the chemicals that come wrapped up in your mattress. Many mattresses are treated with formaldehyde and PBDE flame retardants that can be absorbed through contact with your skin or breathed in through the air while you sleep, especially in the time when your mattress is brand new. If this is important to you, there are certain seals and standards you can look for when you are mattress shopping.
A mattress with the CertiPUR-US seal means it is a foam mattress that meets the industry's purity standards and is PBDE flame retardant, formaldehyde, and phthalate-free, among other things. A GreenGuard Gold Certified mattress meets third-party chemical emissions standards, and one that is OEKO-TEX Standard 100 Certified is free from toxins and heavy metals and is safe for indoor air quality. You can also search for mattresses that are USDA certified organic, although these are harder to find – it likely means the cotton or wool used to make the mattress was not treated with chemicals. These clean standards may or may not be important to you, but there are companies that specialize in these types of mattresses.
Should I Upgrade My RV Bed?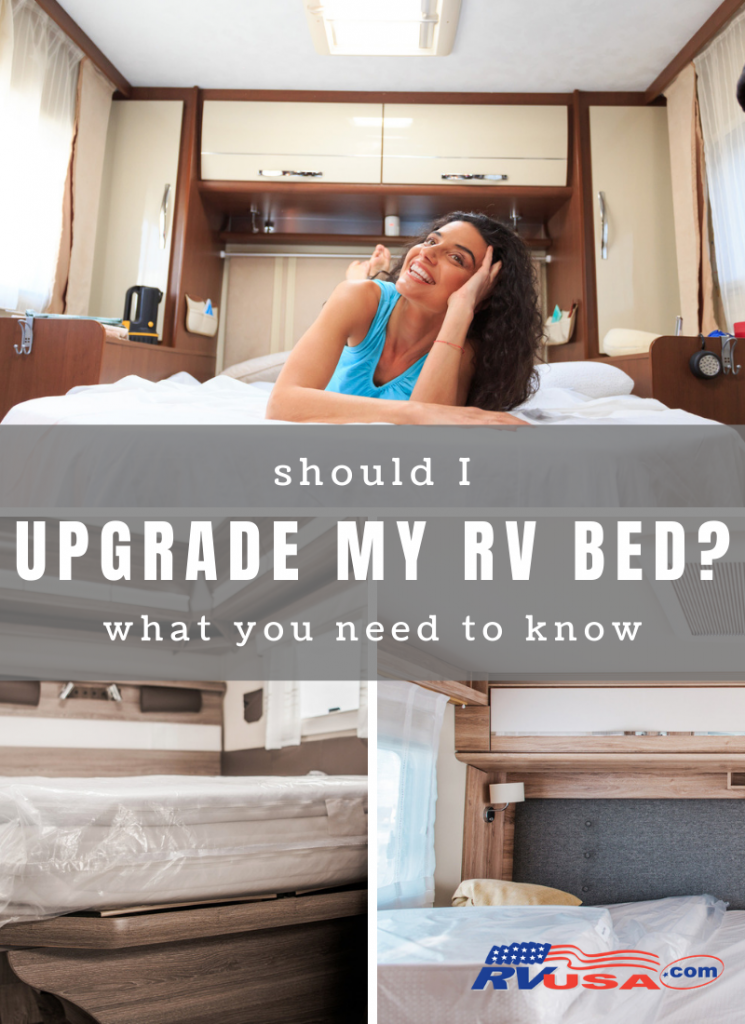 A sore neck or a sore back can make hiking the next morning less enjoyable, and coming home from a weekend on the road feeling exhausted can defeat the purpose of a fun getaway. If you can relate to that feeling, it might be time to spend the money to upgrade your RV bed. With these tips and a little bit of digging into mattress reviews online, you'll be sleeping comfortably on the road in no time.