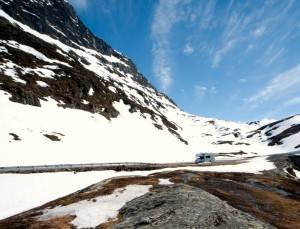 Many RVers enjoy using their RVs during the winter months so they can travel to places where they can witness gorgeous snowfalls, participate in winter sports like skiing and snowmobiling, and visit family and friends over the holidays. If this describes you, these tips for RVing in winter will be helpful.
Understand what you're in for by determining whether, and for how long, you'll be camping in below-freezing temperatures; then you can make plans based on the harsh weather conditions you're likely to encounter. For example, if there is water in the RV's water system when temperatures are below freezing, your plumbing lines or water heater tank could freeze, resulting in expensive repair bills.
Contact campgrounds to ensure they will be open when you plan to visit; a surprising number close during the winter. Campground staff can also give you tips on wintering in an RV in their area.
Some states require chains to drive in the mountains during snowstorms; review the laws in the state where you plan to spend the winter.
Try to select sites that will provide as much sun as possible throughout the day and where you will have access to electricity for the RV's forced-air furnace. If you will be using a generator, make sure you have sufficient fuel. Be sure to check the batteries in your carbon monoxide detector prior to the trip. Never use your range burners or oven to heat your RV.
Be sure to bring window coverings to help hold some of the heat in the RV, as well as an electric blanket for each bed. You will also want to insulate around the entry door and skylight.
If you will be traveling in a winterized RV, make a list of additional supplies you'll need to bring along, such as extra gallons of water and RV antifreeze. You might also consider using campground showers and restrooms while RVing in winter.
Other supplies you may need include:

Extra blankets and towels
One or more space heaters (space heaters with fans can help reduce condensation)
A hair dryer (for thawing inconveniently frozen items)
Insulation for pipes, doors, and windows
Heated mattress pads
Ice scraper and snow shovel

Unless your RV is designed for extreme cold, you will need to skirt it if you plan to use it during consistently freezing temperatures.
If you have questions about how to stay warm and protect your RV while traveling in winter, search an RV forum or post your own question.
Do you have tips for spending the winter in an RV? Please share them below!