New Year, New Me, or so the saying goes. It seems that every year when we change over from the old to the new, people start making New Year's resolutions.  These resolutions tend to be focused on things like living better, being more organized, or living a healthier life. When it comes to RVing though, there are a few resolutions that come to mind as staples within the community. Of course, your resolutions will be unique to you and your lifestyle, but there are a few RV New Year's resolutions that we here at RVUSA think that every RVer regardless of lifestyle can make when going into this New Year.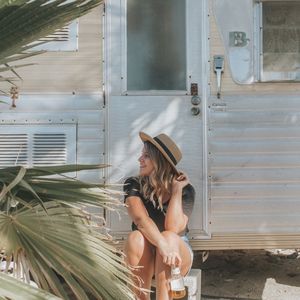 Start the Year Off Right with these RV New Year's Resolutions
No matter if you are a full-time RVer or a weekend warrior, we know you will be making some resolutions to start the year off with a bang.
Going into January, you will want to have a plan for the year ahead. Having a plan is the best recipe for success! So set your goals, devise a way to attack them, and enjoy the time you have this year to do the things that you love.
Take More Trips
The New Year should mean new trips! When you are an RVer, the sky is the limit as there are a plethora of amazing camping spots around the country for you to choose from. 
You don't want your camper to sit idle in your driveway or in storage this year. Make sure you get out and actually travel and see the country. If you can only make quick weekend trips, then make those. Don't feel like you need to always take long trips to far away destinations. There are always beautiful places to visit right in your own backyard. 
Make travel a priority this year! Use your vacation time, hop in the RV, and set out to a state park or your favorite family-friendly local campground. If you work remotely, you may even be able to spend a week working from a fun location in your RV!
Remember, you bought these RVs to travel, so let's make sure you get to really focus on that this year.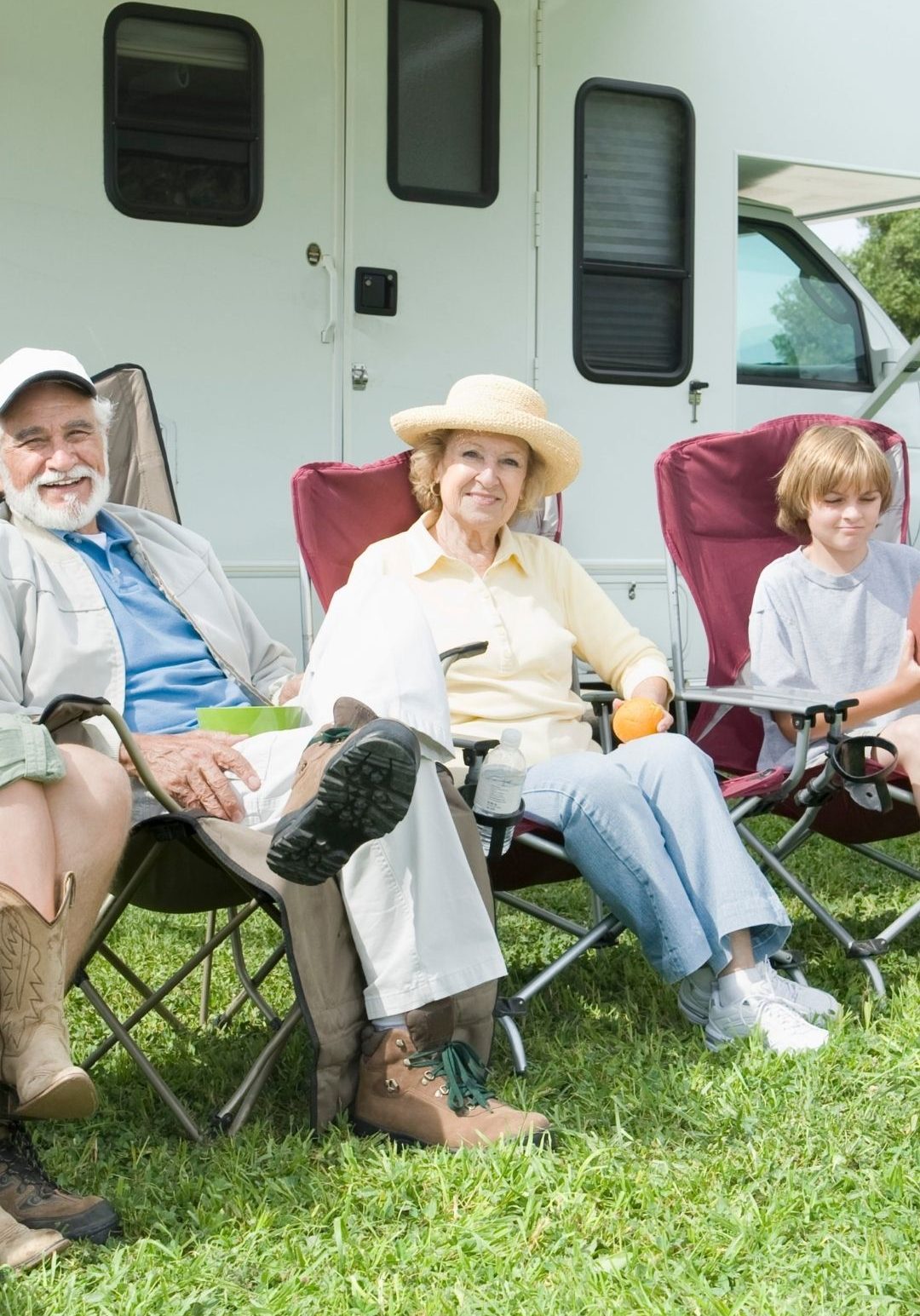 Meet More Campers at the Campground
Sometimes, it can be nice to head out on a solo camping trip and just enjoy the peace and tranquility of alone time. Other times, it's fun to hit up a busy campground with a lot of different planned activities and meet other campers!
This year is a great year to get out and make some new friends while camping. Campground organized events often make it easy to meet new people. You can also simply introduce yourself to your neighbors at the RV park. Social media is another great way to meet fellow campers.
We love meeting our camping neighbors at the campground when we head out for a weekend. These can be just friends for a few days, or you may stay in touch for years to come with your new camping buddies.
Everything is better with friends and camping friends are the best around! Once you start making friends with your campground neighbors and enjoying the planned activities at the place you are staying, you will really start enjoying your trips even more.
Having someone to laugh with and talk about shared interests will always make your trips much more enjoyable. So make this your outgoing year. Don't be shy! Just strike up a conversation with your neighbor and see where the conversation takes you.
Need a New RV for The New Year?
Join Some RV Clubs
Joining an RV club can be an easy way to make new camping friends as well. This is great for those who still don't feel confident just going up and talking to a neighbor at a campground.
There are RV clubs out there for every type of RVer. Solo female camper? There is a club for you! Family traveling together? One for you as well! We even have our own online RVing community, our Living the RV Life Facebook Group. It's a great place to find new friends and get camping tips from others in the RV world.
RV clubs are a fantastic way to meet new friends in the RV world. When you join one of these groups you know you will be meeting people who have the same interests as you. These groups are all about traveling together, making new friends, and sharing new experiences.
We actually have a whole list of different RV clubs you can join as part of your RV New Year's resolutions!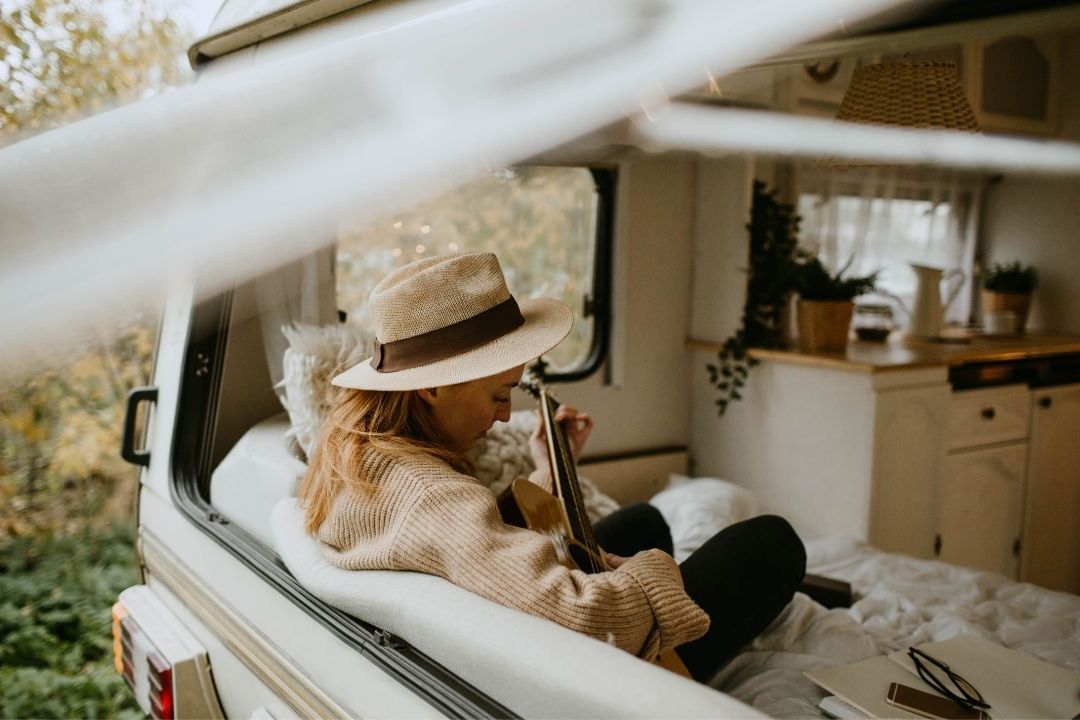 Organize Your RV 
If you are looking for a great RV New Year's resolution, why not start with organizing your camper? Make use of all of the space you have within your RV and make sure that every bit of free space is utilized in a meaningful way. 
Start by cleaning out the kitchen. Get rid of all of the appliances and cooking utensils you don't need. Then organize all of the ones you frequently use so you can easily access them next time you cook a meal in your RV. 
Next, go on to all of the other rooms. Going room by room will help keep you on task and make sure you get everything cleaned and organized. You can pick up  RV essentials like wall hooks, under-the-bed storage bins, and closet organizers to help maximize the space you have. This will make it so every trip you take is simple and that you are ready to roll at a moment's notice. 
So take some time this year to get your camper fully organized and ready for your next adventure.
Service Your RV
Regular RV service is extremely important. We highly recommend that as part of your New Year's resolutions, you take that camper into a local service shop or dealership and have her looked over and serviced as necessary.
Regular RV service will make sure you are ready to roll whenever you feel like taking your camper out for a trip. You won't have to worry about breaking down or making fixes while you are on vacation, because you have maintained your rig properly.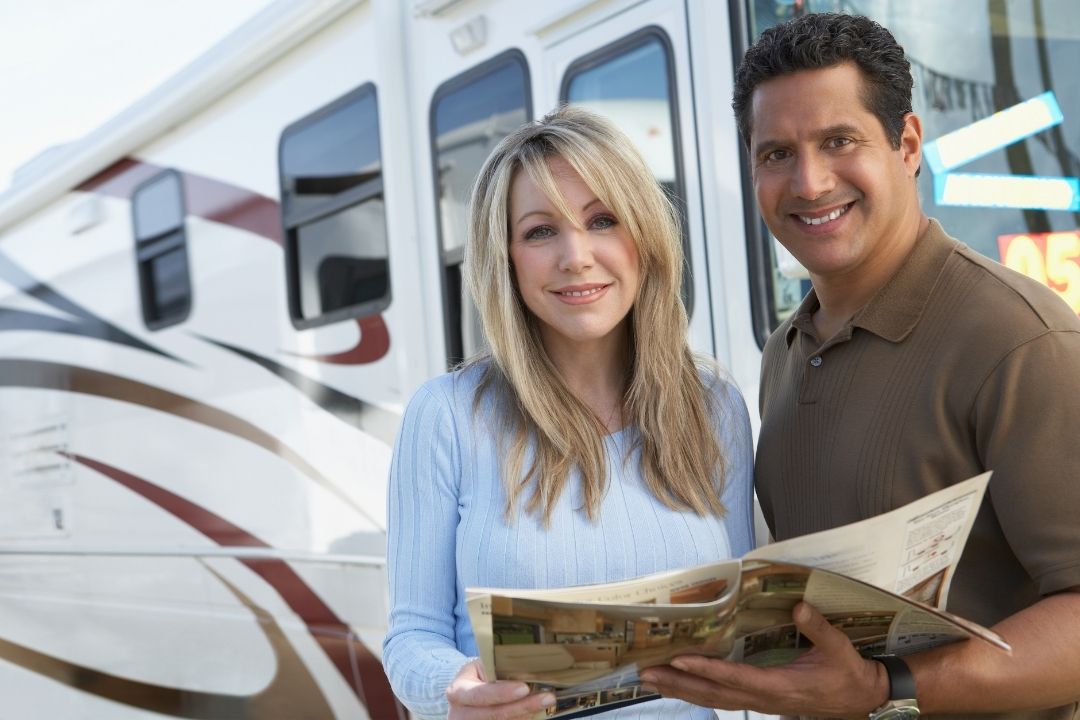 Upgrade Your RV 
Ready to upgrade your rig? The New Year is a perfect time to get amazing deals on new and used RVs.  You can find sales on last year's models and fantastically priced used campers depending on your needs and individual budget. 
Start your search for your dream RV by browsing through campers for sale in your area on RVUSA today. We have listings from thousands of dealers and individuals around the country.
If you are ready to have a fantastic year filled with camping trips, new friends, and an organized RV, then these RV New Year's resolutions are the perfect place for you to start. 
This is going to be your year, and we are glad to help you start it out with a bang! If you have more things on your list, let us know so we can add them to our resolutions list as well!