Mercedes
When it comes to luxury and class in an automobile, Mercedes is a well trusted manufacturer of vehicles built to go the distance and look and function good doing it. From their coupes and sedans to their SUVs and vans, Mercedes has a reputation for quality. Because of this association, many of the top, Class B, RV "manufacturers" use a Mercedes van as a base.
Airstream
Since their first trailer was built in 1929, Airstream has continuously worked to build quality RVs that stand the test of time. They have gotten such a great reputation for the performance of their RVs that Mercedes has entered into a partnership with them to use the Mercedes-Benz name, logo, and van base to create their line of Class B RVs. Not only are you getting the strength, endurance and luxury of a Mercedes, but you get the additional expert craftsmanship that has kept Airstream going strong for decades when you purchase a Class B RV of their manufacturing.
2018 Airstream Interstate Lounge EXT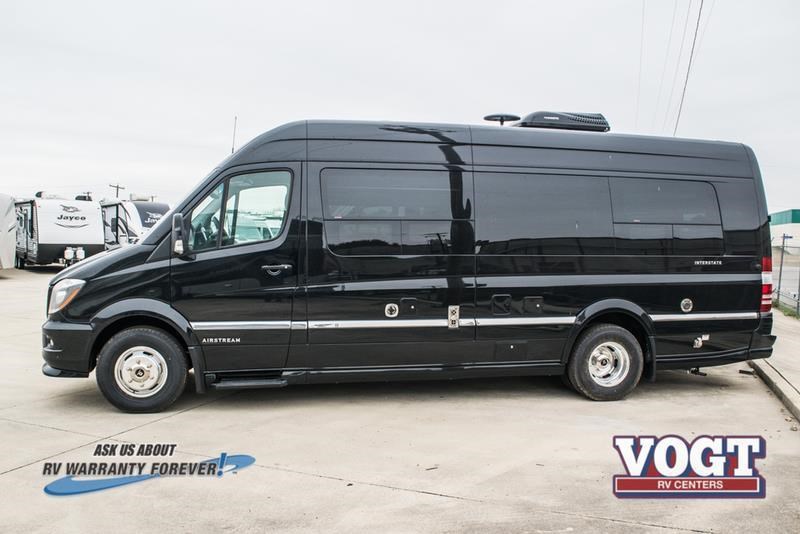 The cooperation of two companies known for their quality builds can be seen in the 2018 Airstream Interstate Lounge EXT listed on RVUSA.com by VOGT Family Fun Center in Fort Worth, Texas. The Midnight Black paint job along with the Mercedes logo displayed on the front grill gives the 2018 Airstream Interstate Lounge EXT a sleek look similar to what you would picture a "world leader" being chauffeured around town in. Once you make it inside the 2018 Airstream Interstate Lounge EXT, you can see why the price tag is on the higher end of the Class B category. 'Executive' style leather seating and a top to bottom wood-grain finish is just the beginning of the luxury you will experience inside the 2018 Airstream Interstate Lounge EXT. Premium solid counter tops house everything you need to remain comfortable on the road. There are four interior layouts to choose from, all of which have come with a mini fridge, 2-burner stove top, oven, and large sink for the kitchen portion of the interior. In the 2018 Airstream Interstate Lounge EXT you will also find 2 flat-screen HD TVs to add to the already extravagant build.
Warranty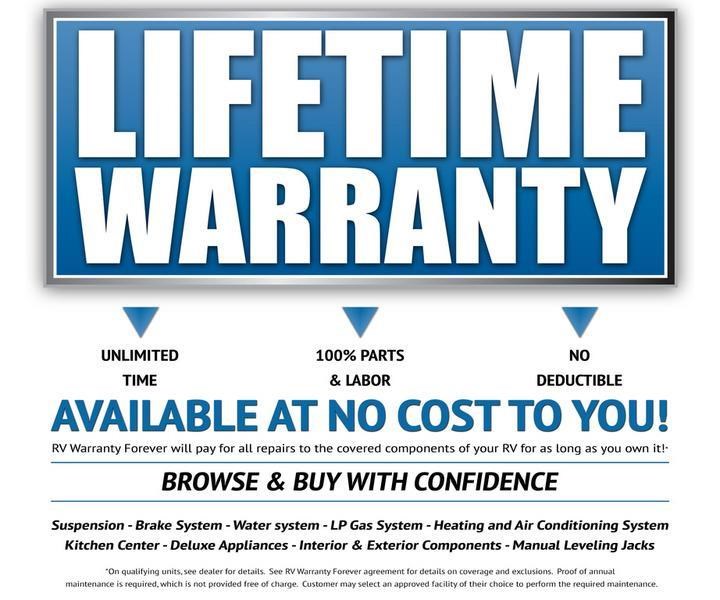 One of the most notable amenities to be included with the 2018 Airstream Interstate Lounge EXT from VOGT Family Fun Center is the 'Lifetime Warranty'. At no extra cost, VOGT Family Fun Center offers a warranty that lasts as long as you own the RV and covers 100% parts and labor with NO DEDUCTIBLE. Of course, to maintain the validity of the warranty, proof of annual maintenance (an expense that you must cover) from an approved facility is required, but well worth it to save on any potential future complications. Even with the high-quality products both Mercedes and Airstream produce, things can go wrong and it is good to know you will be protected.