Easter is only a few months away, and there's no better time than now to start planning that Easter RV trip! This is a great time to be with family, eat delicious dishes and enjoy the outdoors. It falls a bit late this year, but Easter is still a sign of the start of Spring and the camping season. Not everyone celebrates Easter the traditional way, (looking at you, RVUSA readers) so that's why we wanted to create a fun list of campgrounds for readers to enjoy for the holiday.
Stone Mountain State Park, Georgia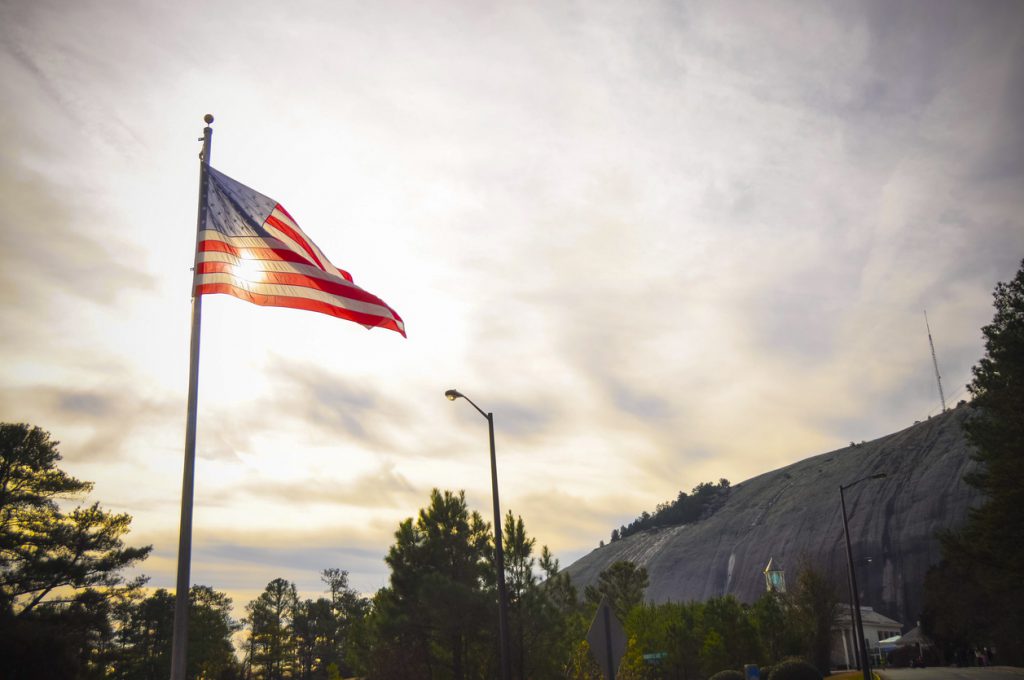 At a whopping 3,200 acres of all-natural beauty, the Stone Mountain State Park is a great place to spend Easter weekend because it offers hundreds of campsites on top of Stone Mountain. Their sunrise service began way back in 1944, before the land surrounding Stone Mountain was actually owned by Georgia. It was Lucille Lanford, a member of Stone Mountain's First United Methodist Church, that suggested the church's youth climb up to the tip top of the mountain on the morning of Easter to watch the sunrise. It is now a tradition and participants today can catch a cable car to reach the top.
Wilderness Campground, Wisconsin
Join the rest of the campers at Wilderness Campground and "SPRING into Camping" on Easter Weekend for only $30 a night! Starting April 19ththrough the 21st, the campground has tons of activities planned to keep you busy all weekend. Kick off the event with Movie Night on Friday, then get ready for the Easter Craft and Story, then try your hand at the Glow in the Dark Easter Egg Hunt. Don't forget to make your reservation ASAP!
Lone Oak Campsites, Connecticut
Located in the Northwestern part of the state in the quaint region of the Berkshire foothills towards the base of Canaan Mountain is the Lone Oak Campsites. Lone Oak is spread across 250 acres and has 469 campsites with a full range of hookup options for you to choose from! The best part about these campsites is that there are so many different views to pick from. You can hang out under the cool canopy of the woods or choose a sun-drenched field. It's totally up to you! For Easter weekend, join the campsite for Easter egg decorating, egg tossing, egg hunting and egg tagging! And don't forget to join the crowd to meet the Easter Bunny Sunday morning!
Tall Pines Harbor Campground, Virginia
I bet your kids have never had the Easter Bunny himself tuck them in! Well now's your chance for you to let them have this experience only at the Tall Pines Harbor Campground in Temperanceville, Virginia. Located on Virginia's Eastern Shore in Sanford, only minutes away from Chincoteague and Assateague Island lies Tall Pines Harbor Campground with beautiful pines and breathtaking waterfronts. Check out the Easter crafts, egg hunts not just for kids and teens, dye Easter eggs and take a hay ride with the Easter Bunny. Don't forget to call and schedule your Easter Bunny tuck-in. on Easter morning, join the people of the campground for a great waterfront sunrise service followed by an awesome free breakfast!
Delaware Beaches Jellystone Park, Delaware
Ready for some nonstop family fun? Then head to Delaware Beaches for a great family vacation destination. If you want to use one of their cabins for your stay, you have five different layouts to choose from. Or bring your RV for a weekend of fun. For Easter weekend, join the crew for a classic Easter egg hunt and Easter crafts. You'll also get to help crew members wake up those sleepy bears from their hibernation all winter long. Then, sign up for a hay ride, play some arcade games, play around at their playground or visit some local attractions to brush up on your history. Reserve your spot before they fill up!
Holly Shores Camping Resort, New Jersey
Just four miles from Wildwood and only minutes from the beaches of Cape May, Holly Shores Camping Resort has fun events and activities for all ages. Rent one of their cabins or tiny houses if you love the outdoors but you like a cozy, comfy place to stay just as much. If you want to travel in your own RV, they have 300 large, shaded full hook-up RV sites to accommodate RVs up to 40 feet. Sites include water, WiFi, electric, picnic tables and even a fire ring. Hop your way over to the resort for Easter and you won't be disappointed. You'll have an excellent time by egg dying, egg hunts, fun activities, a visit from the Easter Bunny and a free Easter dinner. Sign me up!
Granite Hill Camping Resort, Pennsylvania
Whether you're looking for a place to relax, to learn more about the Civil War or to simply be out in the great outdoors, Granite Hill in Gettysburg, PA has all you need to make this vacation the best one yet. Their 150-acre Civil War era farm is covered in woodlands, meadows and rolling hills. Join DJ John and the rest of the team for Easter as Peter Cottontail will be showing himself throughout the busy weekend. Get ready to watch the Easter parade and enjoy candy bar bingo, a harried and a horseshoe tournament along with the classic Easter egg hunts and arts and crafts!
Cottonwoods RV and Campground, Missouri
Cottonwoods RV Park is a family and pet friendly park with 97 campsites of which 63 are pull-thru areas. And the amenities they offer never end! They have most everything you'll need on site: ice, firewood, RV supplies, ice cream and a convenience store. Cottonwoods RV Park also has events going on all year, like the Taco Bar, Fish Fry, Chili Cook Off, Halloween events and more. This year, join them for their first ever glow-in-the-dark Easter egg hunt on the evening of April 20th. It's only $5 and ages 1-12 are welcome to join in on the fun. They'll also have snacks and a crafts area, face painting and glowy items available for purchase. Don't forget to bring your camera so you can capture all these awesome moments!
Don't forget to stay up to date with all of our exciting RV and camping content on Facebook, Twitter and Instagram!