Make your next RV trip fun and relaxing for everyone, including four-footed family members.  Whether you're a year 'rounder, seasonal, or weekend warrior, prepare your RV – and your pets – for the road ahead.
What better way to celebrate National Dog Day on Aug. 26 than with a road trip with your furry besties? Before heading out, pet proof your RV to prevent damage and stress for you and your pets.
Before you Go RVing with Pets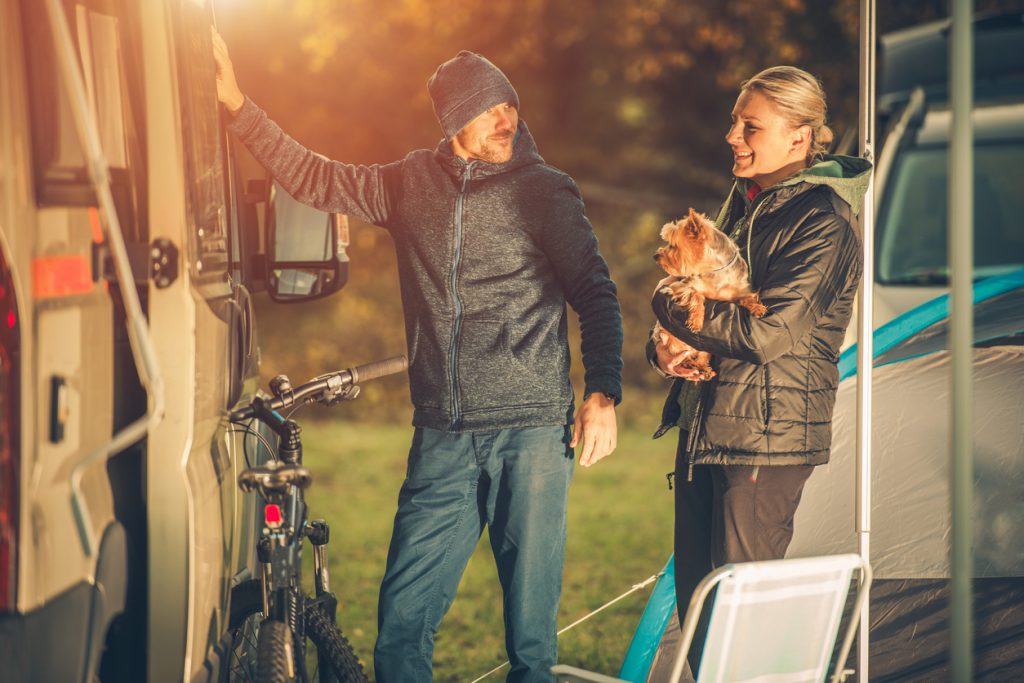 Cats and dogs are at their best in familiar surroundings, with things that include the scent of themselves and their people. No matter if your home on the road is a pop-up or a luxury motorcoach, find a place for your pets' favorite blanket, bed, and toys
.
Before your pets join you for the season, a weekend at the lake, or a cross-country adventure, start with a shorter adventure – maybe just an afternoon in the drive way. Set up your RV and bring your traveling companions out for a few hours of exploring and relaxing in their home on the road.  Even if your pets are regular road warriors, a few minutes of reconnecting with their RV will be well spent.
If your pets are first time travelers, follow-up with a short drive around the neighborhood or stop and set up in a nearby park, so your companions get a sense of the smells, scents, and activities that are part of RV travel.  The Humane Society of The United States suggests a few regular drives in your RV with pet lets your companion get used to the vehicle's motion and gives you a heads up if motion sickness is going to be part of the journey.
Gather up any medications your pet needs as well as veterinarian information.  If you're planning lots of time in the outdoors, add some flea and tick repellent
.
Before heading out, assess your destination and travel plans to make sure it's a suitable location for your pet, the Humane Society suggests. Make sure there are adequate places for walks and there are pet-friendly parks and campgrounds on the way as well as at your destination.
Prepping your RV for Pet Travel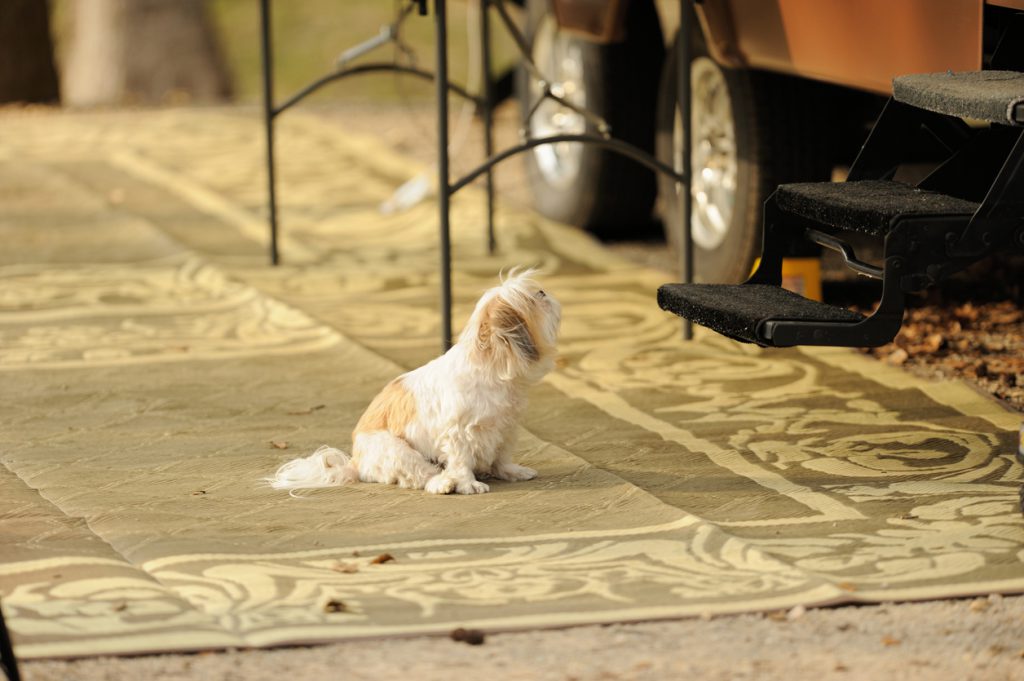 A few inexpensive accessories and simple modifications can protect your RV investment and make pets and humans happier campers.
Safety first, according to the Humane Society.  Allowing pets to ramble about cars, trucks, and RVs can result in injury to your pet and be a hazardous distraction for the driver.  Consider using Velcro or command strips to install a pet gate
or net to keep your dog or cat in a safe place in your RV.  If your pets are traveling in the towing vehicle, consider a restraint that keeps them safely in the back seat – away from luggage that could topple in a sudden stop, and the driver's compartment, where they can be a dangerous distraction.
Smaller pets and nervous animal travelers may feel more secure traveling in a collapsible pet carrier
, even in the most spacious RV.
Consider specially-made pet furniture covers – or simple sheets and towels — to protect the customized upholstery in your RV, especially for drive times, when your pet may become bored or overcome by nerves and scratch, chew or piddle.
Towables and motorized coaches have many tight spaces that may be appealing and dangerous, especially for privacy-seeking cats and small dogs. Secure small cabinets that hold wiring or electronics, or the underside of convertible furniture, where animal can hide, cause damage or be injured. Instead, create new, cozy places and safe havens that will appeal to privacy seeking cats or nervous small dogs.  Install a small shelf for height-loving cats, create a getaway under a table or non-folding sofa, or allow your pet to "hide" in a seldom used cubby.
Take special care to make sure pets have adequate time and places to eliminate, for the protection of your RV, the campgrounds, and the pet's health.  If you're traveling with cats, a little litter box mess can have a big impact. Consider repurposing a built-in cabinet for the litter box hideaway.  Add a pet door, and your cat has privacy — and the litter is not overwhelming the living space. If a cabinet isn't available, travel with a roll of plastic floor protection – the kind used by contractors or Realtors to protect heavy traffic areas – that can go under the litter box and be changed regularly to prevent litter from being tracked into carpeted areas or causing damage to vinyl floors.
Use Command-style hooks
to create a dog walking station near the RV door. Hang leashes, poop clean-up bags, and a small flashlight
so you're ready for a bathroom break at a moment's notice.
Protect your floors at feeding time.  Non-spill water and food bowls
are widely available, but if your pet is a finicky feeder who only eats out of her special bowl, or if you're skeptical about those fancy bowls, buy an inexpensive non-slip bathtub mat. It will keep feeding bowls in place, protect the floors from moisture and food spills and it's easy to rinse or wipe clean.
Explore options for folding kennels and portable exercise pens
, that can be set up inside or out, when you absolutely must have a secure place for your pets, like when you're setting up camp and it's all hands-on deck.
RVing With Your Pets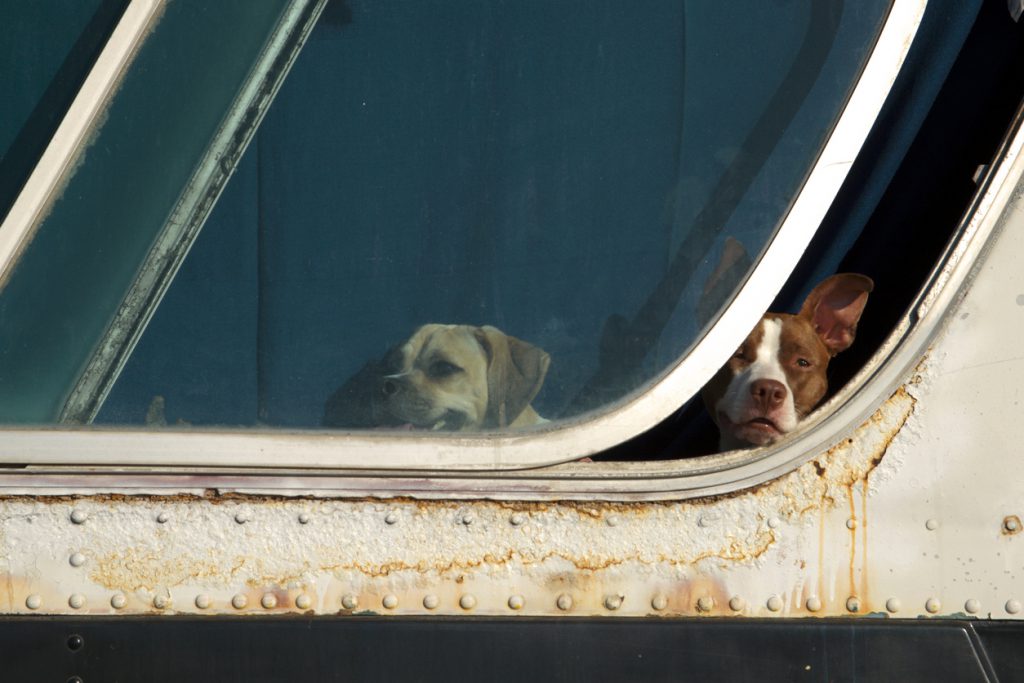 Once your RV is pet ready, be sure and choose a destination that will welcome your pet and prepare to enjoy the journey at a pace that keeps you and your pet comfortable.
On the way, plan to make a few more stops for bathroom breaks, walks and refreshing drinks of water.
Before you make reservations, check the park or camp ground pet regulations.  Some parks may have restrictions on the size of pets they allow or the number of pets allowed in each site. Some parks may require a deposit or levy additional charges for pets, and while your pet may be welcome at your site, he may not be allowed on local trails or recreation areas.
Many parks and campgrounds – including top state and national parks – welcome leashed pets and encourage exploration with your four-footed friends.
Think ahead if you're boondocking; unplugged RVs can get too hot for pets left behind in a locked-up un-airconditioned trailer. Make day trip plans that include your pets, or check out any boarding possibilities in the area.
With the right preparation, precautions, and great planning, your whole family – including the furry members – can enjoy many miles of happy RVing.