Until recently, participating in the burgeoning lifestyle of overlanding meant modifying your 4×4 truck, installing a rooftop tent, or completely gutting and restoring a vintage safari vehicle. Lately though, manufacturers who create specially designed overland RVs are popping up right and left. They've taken notice of the thrilling lifestyle overlanding invites, and understand why it appeals to a growing number of campers. RVUSA has taken note of the same and added overland campers as a category last year. We did the leg work for you to round up some of the most incredible rigs listed on RVUSA in this category.
Shopping Overland RVs
There's a wide range of comfort levels when it comes to overland vehicles. Some think of it as an amped-up version of tent camping, while others want the luxury of RV living in a package that can go off-road and off-grid.
Overlanding can be as simple as installing a rooftop tent above your daily drive truck, or as posh as a multi-million dollar Earth Roamer, a unique camping rig that has been listed and sold on RVUSA before. This list of overland RVs includes overland trailers, overland vans and motorized overland rigs and falls somewhere in the middle of the aforementioned spectrum. With that in mind, let's introduce you to some of the seriously cool overland RVs for sale on RVUSA.
TAXA Mantis Overland Edition
The Mantis Overland Edition is TAXA Outdoors' flagship model with some sweet upgrades to equip it for overlanding. It's the largest and most well-appointed trailer the NASA-inspired brand makes. TAXA is all about packing in everything you need, and nothing you don't – which is perfect for overlanding. Their standard editions are already built to handle off-grid adventures, but the overland edition kicks it up a notch with even better off-road equipment. This includes all-terrain tires, a 4-inch lift and an upgraded suspension, so it can handle traveling to all the most remote campsites. The dinette can be converted into a bed and the couch can become a bunk bed – so if you add the optional pop-top tent, this rig can sleep up to 4. That makes it the perfect choice for families who want to experience the joys of overlanding together.
Shop Our Overlanding Essentials
TAXA Tigermoth Overland Edition
If you're looking for something even more minimalistic, check out the TAXA TigerMoth Overland Edition. This is the most compact trailer TAXA offers, but it's packed with features for exhilarating overlanding experiences. The living area inside converts into a bed, and it features a 5.5 square foot pull-out kitchen for delicious camping meals. You can sleep up to 3 by adding the optional rooftop tent. These tents are an overlanding staple, as many who opt for overland trucks rather than overland RVs use these on their rigs. Not only will you be able to get off the map with the people who are important to you, this rugged, stocky rig just plain looks cool out in the wilderness.
Black Series HQ19
Some overlanders love a pared-down, as-close-to-tent-camping-as-possible version of this type of travel. Others want to the ability to go anywhere without sacrificing comfort. If the latter sounds like you, you'll love Black Series Campers. These overland RVs manage to blend a tough, tactical exterior with clean lines and elegance inside, and the HQ19 is the most popular one on RVUSA. The interior design is decidedly uncomplicated in the style of the trendiest IKEA furniture. The bedroom even has tiny twinkling "star" lights built into the ceiling with adjustable brightness so you can bring the beauty of the outdoors inside! It also includes practical features to make life easier such as an air conditioner and a bathroom with both a dry and a wet area.
Black Series HQ21
Black Series' biggest and highest end trailer is the HQ21. This overland RV is longer and has a larger living space so it truly feels like home – the perfect mix of rugged capabilities with luxe, modern design. This rig has a full kitchen, including a 6 cubic ft. Dometic fridge, 3-burner stove and a microwave oven. The leather sofa in the living/dining area is massive so you'll have room for everyone who wants to join. No camp bathroom here: the shower and toilet are separate and it has a full sink and countertop. If you want an overland RV with comfort and style, this is the rig for you.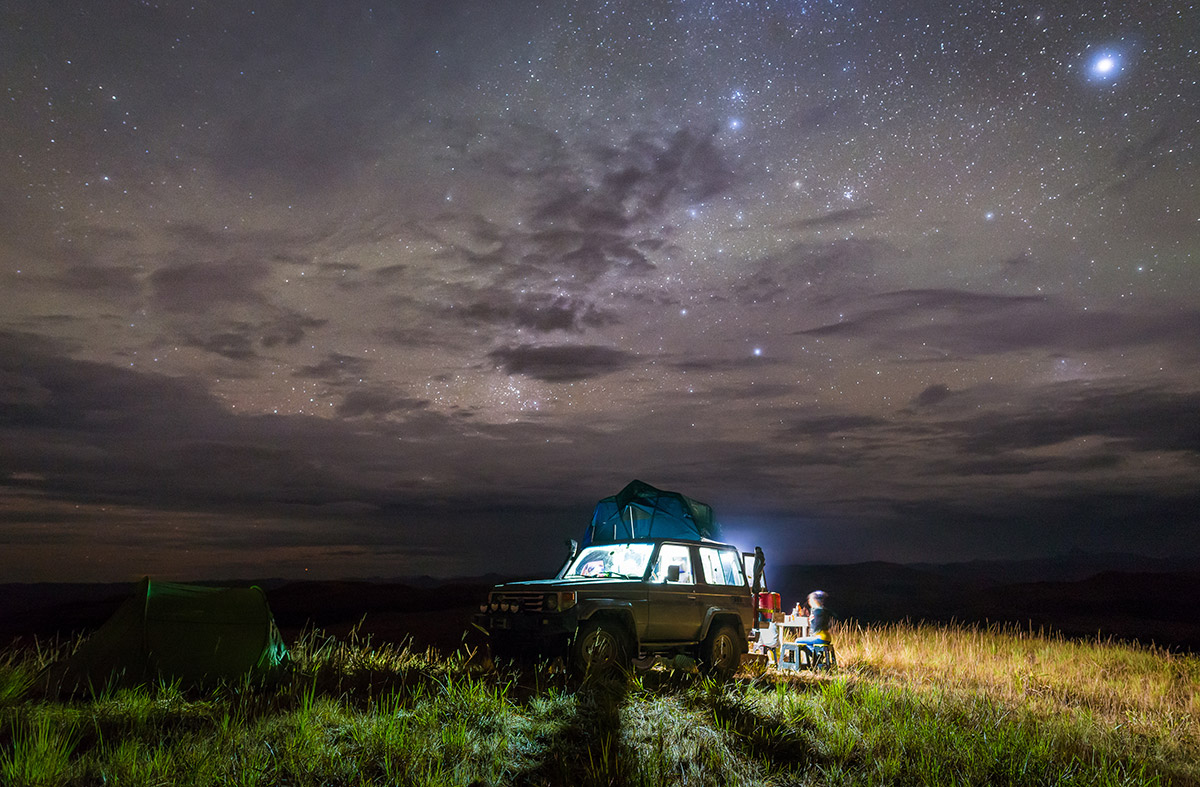 Ready to find your epic adventure rig?
Storyteller Overland Stealth MODE
One of our favorite types of overlanding rigs are adventure vans, and it's hard to beat the ones made by Storyteller Overland. Their whole mission is to create vehicles that equip you to make memories that turn into great stories. When most people picture van life, they picture aesthetically decorated, totally instagrammable DIY vans – but these 4×4 vans are way tougher.
The Stealth MODE is kind of the Goldilocks of Storyteller Overland's lineup, landing right in the middle in terms of price and premium features. Even on first glance, this overland RV looks ready for adventure. The roof racks, awning, roof ladder and storage-equipped rear doors ensure not an inch is wasted on the exterior. Inside, it's practical and comfortable, with tons of features that convert to other uses or stow away when you're not using them, including the shower. It's slate grey color sets it apart from the brand's other rigs, keeping the branding minimal and sleek.
Storyteller Overland Beast MODE
If you want the absolute top of the line of what Storyteller Overland has to offer, you need a Beast MODE. Highly versatile with convertible living spaces and practical features, this rig just takes things up a notch. One of the coolest upgrades to this overland RV is the Agile Off-Road Ride Improvement Package, which makes traversing over tough terrain smoother than ever. It also has an on-board air compressor with front and rear air chucks, a must for any overland vehicle that needs to get in and out of sticky situations. It's the ultimate adventure van.
Ember RV Overland Series
Ember RV is a newer brand on the overlanding scene, but it's backed by tons of industry experience. The company's co-founder and CEO is Ashley Bontrager Lehman, the granddaughter of the founders of Jayco, a giant in the world of RV manufacturing. The idea of starting an overland brand was "an idea that couldn't be extinguished," according to the website – hence, the brand's name. Ember RV's smaller Overland Micro Series even earned a nod as a finalist for RV Business' RV of the Year award in 2021 and landed itself on our list of the hottest RVs for 2022.
The Overland Series is a bit roomier, with 5 different floor plans to choose from. Each rig comes standard with a solar package for plenty of time spent off-grid. One of the coolest features may be the skylight over the bed so you can gaze up at the stars just like you would camping outside. They're also equipped with full bathrooms, including an enclosed shower, toilet and sink with a medicine cabinet. Essentially, these overland RVs combine everything you love about going off the map with the comforts of RVing.
Winnebago EKKO
One of the other overland RVs with a big name behind it is the Winnebago EKKO. This brand-new addition to their lineup spotted at last year's Overland Expo is a unique blend of a Class B and a Class C, built for going off-road. It's as maneuverable as a van, but as spacious as a Class C. It was also one of the RV of the Year finalists for 2021 and one of our hottest RVs for 2022. It has all the expert design and functionality you'd expect from Winnebago, along with all-new features like 3 solar panels, a 270 degree awning and AWD. This rig is for those who want familiarity mixed with innovation.
Find your next overland RV on RVUSA
If you've ever contemplated this style of self-sustaining travel or exploring where few have gone before, now is the time. With our selection of overland RVs, overland trailers and adventure vans, we can take you there. Get started shopping overland campers on RVUSA today.
Ready to find an RV for your adventures?