Everything your Need In your RV Kitchen for the Holidays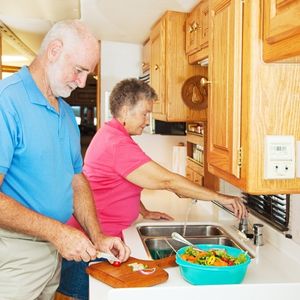 We're smack in the middle of the holiday season. People have started decorating their RVs for Christmas and begun making plans for family-friendly meals for holiday entertaining. Cooking in an RV kitchen can be intimidating. This is especially true with holiday cooking when you are likely expected to host a large group of hungry people. Don't let the holidays stress you out though! Holiday cooking in your camper does not have to be scary, as long as you have the right multi-purpose RV kitchen essentials to keep you organized and on track.
You may be hesitant to cook a full-blown holiday meal in your RV, and that is completely understandable. Cooking for the holidays in an RV can be tricky because space is always at a premium in an RV. There often isn't room to store bulky boxes of seasonal dishware and cookware that you only end up using two times a year.
We've got you covered. We compiled a list of our favorite multi-purpose, low-cost, fast-shipping RV kitchen essentials on Amazon that will get to your RV doorstep in a snap. Our focus in choosing these items was to find cookware for RVs that is compact and easy to store that you will want to use all year long, not only during the holidays.
Probably the most important RV kitchen essential that you need to have in your camper cooking repertoire is a
programmable slow cooker
. You will find yourself using your
slow cooker to make dinner
multiple times a week in your RV.
What makes having a slow cooker so great for your camper is the fact that it is easy to use, doesn't take up a lot of space, and can make SO many different dishes.
When cooking Thanksgiving or Christmas dinner, you can use a slow cooker to make your mac and cheese, veggies, mashed potatoes, or even an Italian Christmas lasagna! The possibilities are endless, and the best part is that you will use this countertop appliance all year long, not only just during the holidays.
Outdoor Mounted Gas Grill
When cooking in your RV, most of the time it is best to think outside of the kitchen. No matter how beautiful your camper or how lovely your kitchen is, sometimes there is just not enough room, especially for a full holiday meal!
Outdoor cooking is what the camper life is all about anyway, and you can cook up anything you want on this super convenient and easy-to-store gas grilling station.
When it comes to holiday cooking, this baby is a lifesaver! Cook your ham, turkey, veggies, or whatever else your heart desires on this Flame King's BBQ and Grill station! It has a bracket to mount right onto the side of your motorhome, RV or trailer so you can have a cookout wherever you are!
Nothing says easy cooking like an Instant Pot. These bad boys are an RV kitchen essential no doubts about it. You can make so many different RV meals in your Instant Pot, and the holidays are the perfect time to have fun and experiment with new Instant Pot holiday recipes.
You can make some really fun and quick meals in one of these, so really let your imagination have free reign when coming up with family-friendly recipes for the holidays!
It doesn't matter if it is the holidays or just a random Tuesday, nothing says camping more than Smores! I mean, is it possible to go camping and NOT make smores outside on your campfire? Honestly, we don't think so!
Smores are a staple, an important one, and while this s'mores set may not technically be an RV kitchen essential, it is an RV cooking essential. Because trust us, smores are essential every single time you take your camper out!
Is anything more annoying than a tiny RV cooktop? There never seems to be enough space for all the pots you need to cook a big holiday meal. You are using two of the burners and then you have no room for your third pot because the top is so much smaller than a traditional cooktop.
Don't stress though, just pick up one of these double induction portable cooktops! These cooktops are so convenient. You will be able to expand your cooking area, which is so important when making your holiday meals!
Even when the holidays are over, this cooktop is perfect, especially for full-time RVers traveling with their kids! You will never run out of room to cook noodles or make hard-boiled eggs ever again!
If you are one of the few people who managed to escape 2020 without purchasing an Air Fryer, you are missing it.
These may seem like a gimmick but they are SO useful, especially when it comes to cooking in your RV. You can cook pretty much anything in an Air Fryer, and it cuts down on the regular cook time significantly!
So if you haven't ventured into the air fryer world yet, then you need to just come on in because once you try one, you will never want to cook any other way!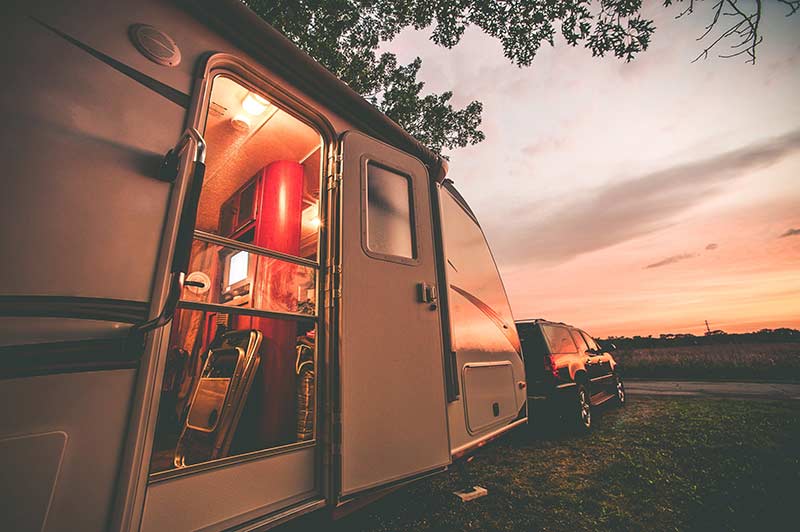 Need an RV for the Holidays?
RV Kitchen Essentials You Need To Buy This Holiday Season
When it comes to cooking a holiday meal for your family in your camper, these RV kitchen essentials are, well, essential to your success!
You don't need anything insanely expensive or any "seasonal specific plates" to have a memorable RV holiday meal. You can serve your holiday dinner on paper plates with plastic silverware and honestly, and noone will care. All they will care about is the good food and the family togetherness!
So go on, pick up some of these RV kitchen must-haves and let us know what you will be cooking up this holiday season!
This post contains affiliate links. RVUSA.com will receive a small commission at no cost to you if you make a purchase using these links. We appreciate your support!
Ready to find an RV for your adventures?