When you think about driving an RV, van or motor home, you probably don't think about how fun or easy they are to be in control of. With the 2018 Winnebago Paseo 48P, though, driving really can be fun! It may just be the most powerful and quick to get up to speed RV you've ever driven.
The 2018 Paseo is built on a Ford Transit Casssis with a 3.5 L twin turbo EcoBoost engine that allows you to accurate easily up hills and even gets about 15-17 miles per gallon on regular gas.
The transit's complex shape made it a harder van to outfit. Its subtle curves are what give the Paseo its distinct and sleek interior. You'll find a fold away sink in bathroom and water protected storage. The Paseo was also designed to be a multi season vehicle. When asked what they would change, most owners said they wanted to extend the use of the RV and travel in colder weather. That's why Winnebago chose to put the water tank and plumbing all inside the cabin.
In the kitchen area, Winnebago added a stainless steel sink with a glass cover for more food prep space. There's also a two burner stove with a fold out leaf for even more food prep space. Where many Class B vans only have a microwave, the Paseo has a convection microwave oven!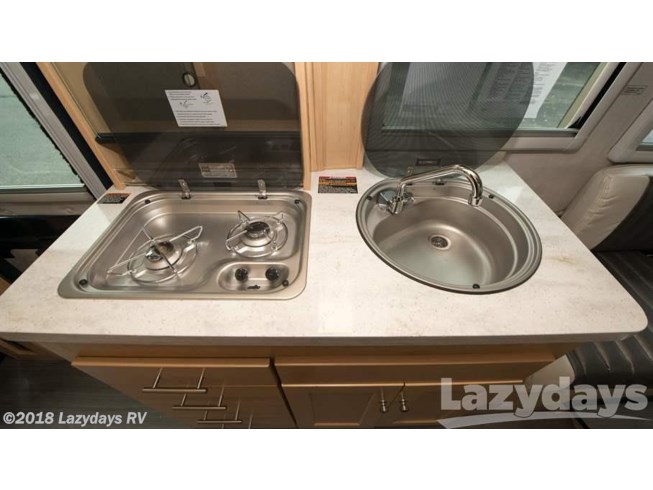 The rear of the Paseo was designed with maximum capability in mind. When it's time for bed, the owner has a few options. The twin benches come equipped with four seatbelts for safety. Easily drop the pedestal table and voilà! You've got a dining room table for four.  One person can use the passenger side bench. It has an extension that makes the sleeping surface much longer and comfortable. Once you drop the dinette top, you can make a larger bed.
Whether it's day or night time, the rear entertainment area has audio and video options with lots of flexibility from playing DVDs to listening to music via bluetooth on your phone from either inside or outside of the RV!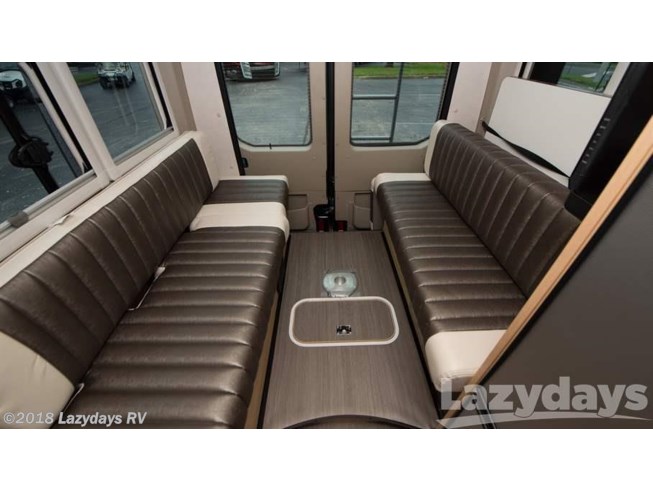 Some Class Bs don't come with a lot of storage simply because of their size, but the Paseo is another story! You'll find storage space in almost any nook and cranny in this Class B, including a large cabinet in the kitchen for food, above the sink storage in the kitchen as well, and plenty of space in the overheads of the van.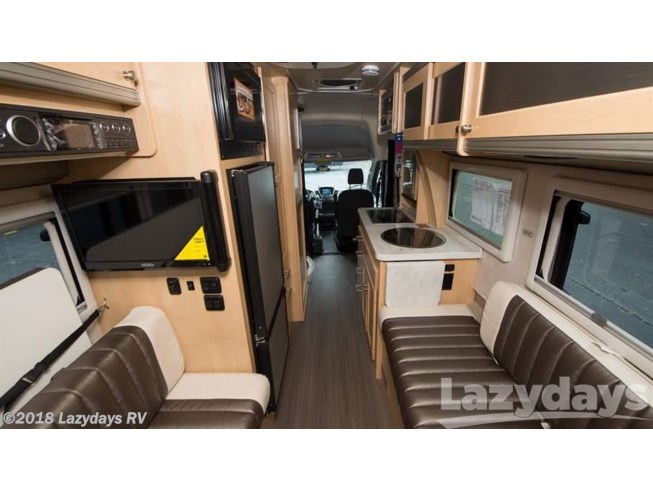 This Class B only has 1,541 miles on it and is available for the price of $94,575.00. So go ahead and call LazyDays RV in Seffner, Florida today and call this van yours!