With 132 units available right now on RVUSA.com, The RV Shop in Baton Rouge, Louisiana serves customers all over the southern part of the state. They provide customers with the best and largest selection of new and used RVs, giving you tons of options when it comes to choosing the right motorhome for your needs. They are also the only dealer in the state that offers a long line of Holiday Rambler and Monaco RV motorhomes. The RV Shop receive new shipments of RVs, pop-ups, 5th wheels and toy haulers every week, so if you don't see what you're looking for right away, don't be afraid to reach out to their knowledgeable staff and ask for help. They'll find what you're looking for. Even if you're nowhere near Louisiana, they sell RVs nationwide and even offer delivery. The RV Shop only stock up on the best brands you can trust.
It all began in 1976 when Gerald and Tammy Vince opened their doors to all RV shoppers and enthusiasts. Since then, their RV business has expanded and their vision has been passed down to family members and employees that have been with them for decades. Now, they have Tyson Vince as the manager of RV Sales and Rental Departments, while Briggs Vince manages the Service Department. They both succeed at their jobs because they possess the same dream as their parents envisioned 34 years ago. As a family business, they know what it takes to make lasting memories with your family and loved ones, and they want you to choose them as your number one RV trader and dealer.
All it takes is one stop in The RV Shop to see how much pride the owners and staff take in selling RVs to their repeat and new customers. Their staff goes above and beyond to ensure an enjoyable and memorable experience with The RV Shop. The moment you walk in the doors you'll immediately get the feeling you're around close family.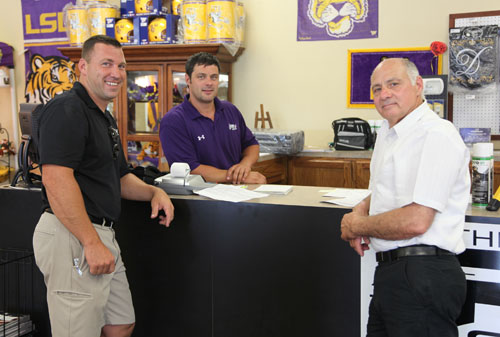 Let's not forget about servicing and keeping up routine maintenance on that RV! Their certified technicians realize that RV'ing isn't just a hobby. For some, it's a way of life. That's why you should let them do that servicing and maintenance on your RV so it can stay in prime condition for any road trip or last minute vacation ahead! The technicians treat them as if they were their own and they'll have your RV up and running in no time while still being thorough. The RV Shop can do the recommended service by the manufacturer so it can stay in great condition, and they are also a certified repair business, so they can provide any repair work needed.
The RV Shop in Baton Rouge has 3 different rental options too! Whether you need an RV for your next tailgate party or for a last minute weekend getaway, they'll definitely have a motorhome for you. If you're looking to rent just overnight for prom, a fishing or hunting trip or even a business trip, the Sprinter Executive Class RV is the perfect option. If you need an RV for an extended amount of time, the Plus Class RV has the right amenities for longer trips, including closets, a shower, a refrigerator and multiple sleeping areas. The Premium Class RV is right for you if you need more family time or if you need to travel for an extended period of time. This RV is ideal for family vacations because it sleeps 5, has a table big enough for family dinners and has a kitchen area with a pull out pantry. The RV Shop has all your traveling needs covered with their rental options.
What are you waiting for?! Call The RV Shop at (225)-272-8000 or visit their website today!