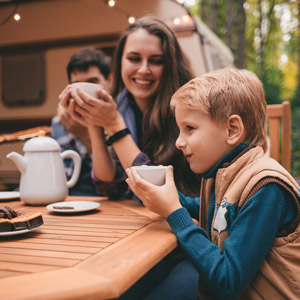 It may not be full-on fall across the US just yet, but we're not far from it. If Starbucks has pumpkin spice on the menu, you know it's at least that time of year where we're all eager for turning leaves and campfire hangs! If that sounds like you, it's time to stock up on fall RV decor. We've rounded up a few of our favorites to help you out.
Why bother with fall RV decor?
You may feel like decorating for the seasons is not worth the hassle when you live in a tiny RV. However, the key thing to remember is that you LIVE there! Even if not full-time, it's the place you call home on your vacations. It should feel exactly how you want it to on the inside to make your fall vacation as cozy and relaxing as it can be! You don't have to go all out and invest in every single piece of fall decor out there (although if this is your style, go for it!). Simply picking a few favorite small touches can totally transform the vibe of your RV it feels like sweater weather, whether the weather outside says so or not. 
First things first: nothing sets the tone for fall vibes like a fall scented candle. This
pumpkin spice soy wax candle
smells amazing and has the cutest fall design so it will fit right in with your other fall RV decor. The soy wax also means it will burn clean and won't fill your RV with toxins like paraffin candles do. We also love this minimalistic
Autumn Wreath scented candle
from Sweet Water Decor.
The next step to cozying up for fall is having the best fall blanket on hand. This
waffle knit blanket
is soft, comfy, and oh-so-adorable! It's the perfect shade of rust to go with the pumpkin spice latte you'll be sipping while you're curled up in it. You need blankets when the weather gets colder anyway – why not make it a cute one that goes with your RV fall decor?
Is it fall RV decor? Not technically. Will it make your RV feel more like fall? YES!
This adorable coffee mug
is made of pumpkin spice and everything nice. Fall means lattes, colorful leaves, football season and pumpkin carving. What more do you need?! If this mug sums up everything you love about fall, you may also want to check out our guide to
RV football tailgating
and all of our favorite
RV tailgating recipes
for your next trip to the football stadium.
Why not complement that warm fall blanket with fall pillows to match? If you've followed our
RV holiday decor
suggestions for a while, you know that throw covers are one of our favorite hacks to decorating for different seasons with limited space. You simply purchase a set of
plain white throw pillows
and with each new holiday, you swap out the covers with new themed ones for that season. It takes up so little space in storage, it's hard to argue against it! These
"Hello Pumpkin" pillow covers
are our favorite pick for Fall '22.
Now that we've got your cozy reading corner all set up, let's move on to table decor. In fall, it's all about the dried florals. We love these
fall eucalyptus leaves
for a modern take on dried fall colors. You could also try orange
pip berry stems
mixed in with other florals or on their own.
Pampas grass
is always a boho fall fave, but keep in mind it can shed and cause a mess in your RV! Try arranging them in these
round modern vases
or something with an
abstract shape
.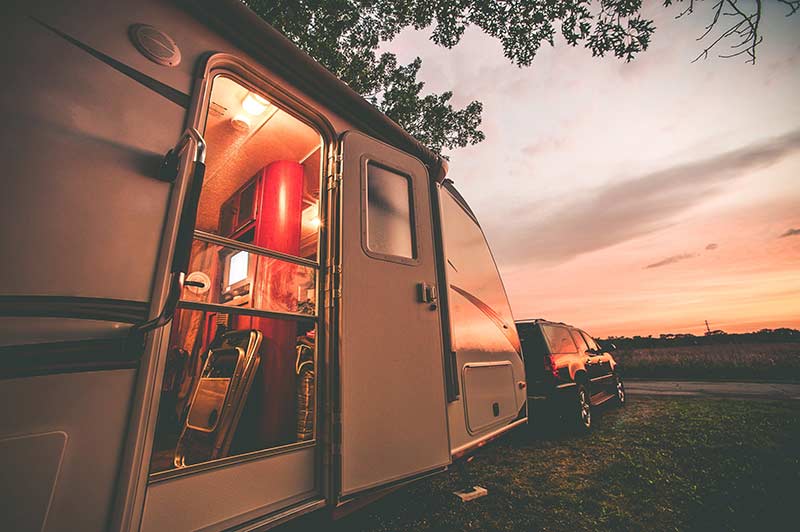 Need the perfect RV for a getaway?
For a more subtle touch for fall, try this
white pumpkin garland
with eucalyptus and pinecones. It's just the right amount of fall without throwing off the rest of the decor vibe you have going around your RV. And no one can accuse you of decorating too early for fall because they'll hardly notice!
If burning a candle in your RV gives you anxiety, try this for the perfect fall scent instead.
Cinnamon brooms
are a classic for fall, and these mini versions mean they'll fit wherever you want to put them in your RV without taking up too much space!
Finally, top off your RV fall decor with the perfect seasonal tea towels. We think these
pumpkin tea towels
go perfectly with the fall pillows we linked earlier!
Prepping your RV for fall
Whether you're spending your fall peeping fall leaves in Vermont or chasing warmer weather along the coast, these items will make your RV feel ready for fall in no time! You can get more fall decor inspiration from our Fall 2021 decor guide or by visiting our full RVUSA Amazon Essentials page for more recommendations on RV essentials for everything from security to maintenance.
This post contains affiliate links. RVUSA.com will receive a small commission at no cost to you if you make a purchase using these links. We appreciate your support!
Ready to find an RV for your adventures?