It's that time of year when the temperatures are dropping, and bonfires are blazing. And while some RVers are looking for RV storage, others are planning their next destination. And with fall winding down, the holidays are right around the corner. Though most people decide to gather around a table to enjoy a traditional meal, others choose to celebrate Thanksgiving dinner while camping with a few close friends or family members.
How to Host Thanksgiving Dinner While Camping
If your Thanksgiving dinner table looks more like a U-shaped dinette or a picnic table, this means your RV kitchen's about to be busy! If you've decided to spend the holiday in your RV and have Thanksgiving dinner while camping, we've got some helpful tips that'll make your day just as easy as it will be memorable.

Research Campgrounds
If you plan to cook your turkey day feast out in the open, research your RV destination. With so many options for RV parks, campgrounds, resorts and camping across the United States, you'll want to plan ahead. Check the amenities each campground offers and choose a site that fits your needs. You can also check out our list of the 10 best campgrounds to visit for Thanksgiving.  Remember, choosing the right destination is vital for a successful Thanksgiving dinner while camping.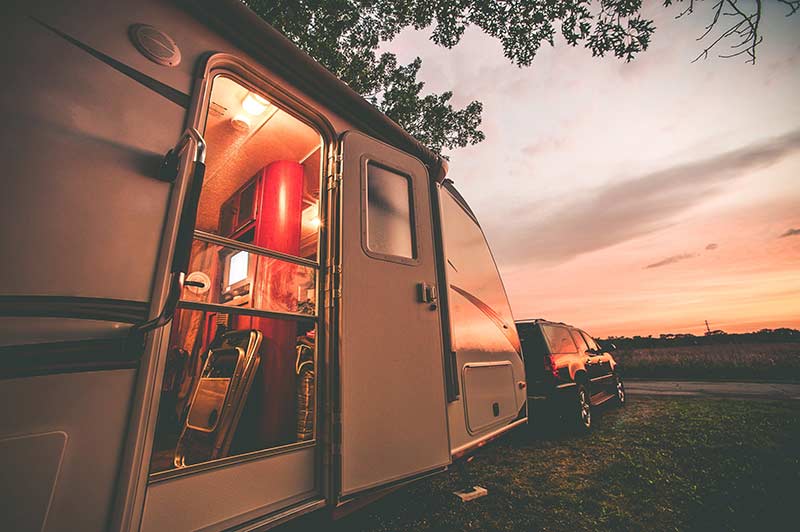 Need the perfect RV for the holidays?
Make What You Can Ahead of Time
We think the most important thing to keep in mind is that cooking a Thanksgiving dinner while camping won't be exactly the same as cooking in your sticks and bricks kitchen. So, a good rule of thumb is to prepare what you can at home. Sure, some people think this is not actually "roughing it" or they think it's cheating, but that's what modern day appliances are for. They're there to make things easy! So, marinate any proteins or meats the night before, measure any ingredients you can and put them in plastic bags or Tupperware containers. Bake casseroles and pies beforehand as well so all they need is to be reheated. Anything that can be done the night before should be done then so you can relax a bit more and spend time with the fellow campers.
Start Early
Because you don't have much help from appliances when you're cooking with a campfire, it's a good idea to start cooking early. Cooking frequently ends up taking longer than we plan, so giving yourself a bit of wiggle room for mishaps is key in preparing the perfect Thanksgiving dinner while camping. Plus, this time of year, it gets darker out much faster, so give yourself plenty of daylight to prep your foods. You can check the sunrise sunset calendar for an accurate timeline to best plan your Thanksgiving dinner while camping. 
No Turkey, No Problem!
This may be against some people's Thanksgiving must-haves, but skipping the turkey and just having sides might be easier and faster than finding a way to cook a bird. It's less stress and less planning all around, and you won't have to tag along as many kitchen vessels and appliances. Gotta have a meat? No problem. Just buy a precooked ham at the store so all you need to do is heat it up over your campfire. You can read our blog for more recipes for Thanksgiving in the RV. 
But If You Must…
All right so if you must have a turkey, there are a few ways to cut some corners and still have a delicious, juicy bird. If you want to do a whole turkey, buy a smallish one (seven pounds or less) and pop it in a Dutch oven. The trick is to have a wire rack to keep the bird sort of elevated and not touching the bottom of the pan. This ensures crispiness and no soggy turkey skin. Just put the rack in the pan (an upside down pie pan will even work), and then put your seasoned bird on the rack in the Dutch oven. Layer coals on the top and bottom. Your turkey is done when it reaches an internal temperature of 165 degrees! If you don't necessarily need a whole one, you can do a few legs or breasts the same way.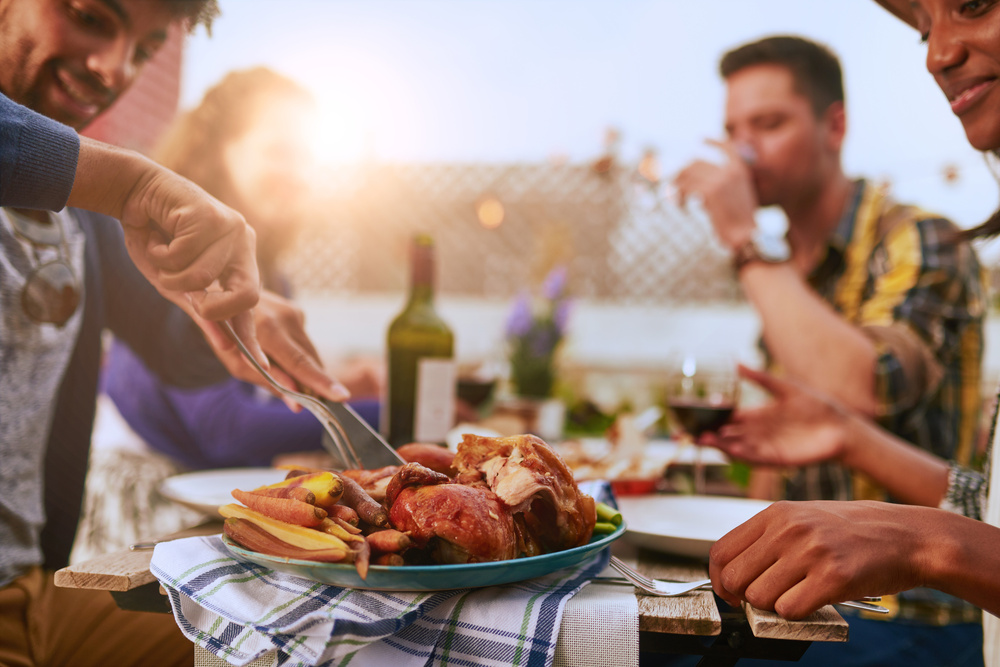 What Is The Weather Like?
It's also a good idea to check the weather at your destination before deciding to cook your dinner there. There's nothing worse than planning an elaborate Thanksgiving dinner at your campsite and then having a downpour begin as soon as you start to cook. If you're staying at a campground, public park or RV park, make your reservations plenty of time in advance to make sure you'll get a spot. If you're planning your stay in a remote area, like a national park or forest, you should verify the spot and make sure all access roads will still be open throughout your stay. Several areas like this are seasonal and the gates are often closed to visitors. Moral of the story: Always have a plan. 
Camping Sides
For veggies, try roasting pumpkins. The skins are super thick and can actually be tossed right onto the burning coals. You can cut them up in chunks or slices with oil, salt and pepper sprinkled on them then wrap it up in aluminum foil. A more creative idea is to scoop out all the seeds and fill them with things like rice, onions or other veggies. They'll caramelize as they cook and become one deliciously sweet side dish. 
Get Your Sweet On!
What Thanksgiving feast is complete without dessert? Pie might be the most traditional dessert when it comes to Thanksgiving, but if you're camping for the holiday, the last thing you're probably worried about is tradition. Finish off your meal with a simple fruit crisp or crumble that requires only a few ingredients. Take a clean cast iron skillet and add butter, brown sugar, spices and whatever cut up fruit you like. Why not add several kinds of fruit and make it more of a compote? Once these are slightly cooked through, cover with a layer of oats, brown sugar, butter or granola and cook till the fruit is fork tender.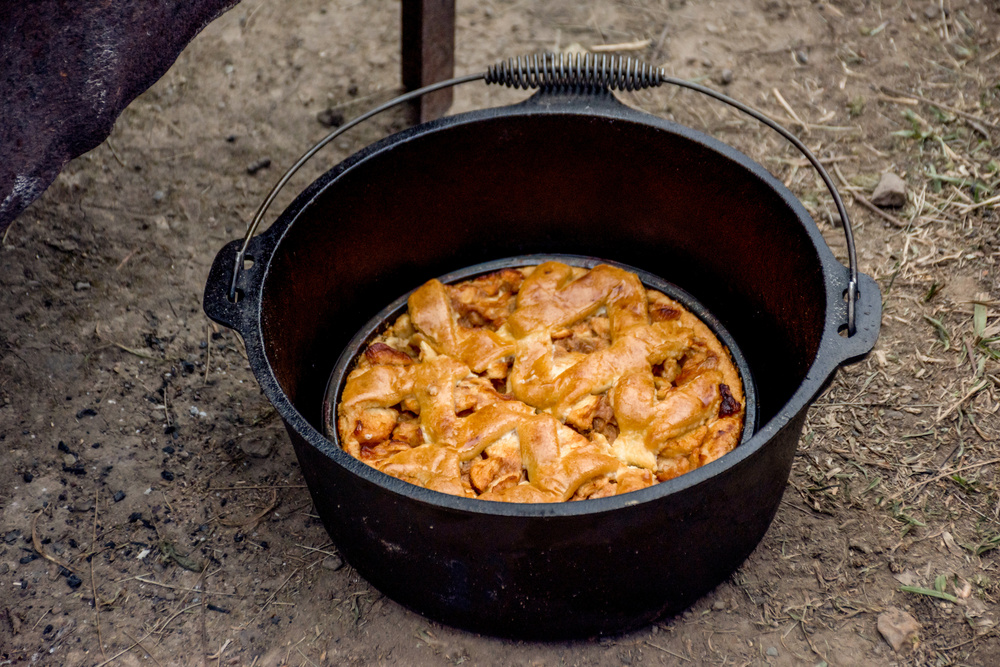 Just Enjoy Your Day
There will probably be a few mishaps along your journey to a perfect Thanksgiving feast, but that's perfectly okay. It's these times that you'll end up remembering and laughing about down the road. I promise you'll remember the time you accidentally set the pumpkins on fire rather than the perfectly cooked turkey. So remember to enjoy being with your friends and family, because that's what you're there for anyway. And maybe remember to pack a few frozen dinners… just in case. 
Ready to find an RV for your holiday travels?