With so many campground options out there, it's tough to decide where to stay when you're planning an RV trip. Thankfully, we're here to help you narrow down the options! We picked out 7 of our favorite RV parks based on amenities, views, and proximity to activities, all within different parts of North America. Whether you're up for a relaxing beachside stay, a tour of wine country, or an adventurous stay in the shadow of the mountains, we've got the perfect place for you.

Petoskey and nearby Charlevoix and Traverse City are favorites for travelers both from Michigan and elsewhere. These charming beach towns along Lake Michigan and its bays provide the perfect getaway for those who don't live near the coast or who want all the perks of the sand and sun without the sticky salt water. When it comes to RVing "up North" as locals call it, it doesn't get much nicer than Petoskey RV Resort. This 26-acre resort falls into the luxury category and features a community lodge, tennis courts, a swimming pool, a putting green, and select water view sites. The resort is gated and has a fitness center and laundry facilities.
While the most obvious destination in Arizona would be the Grand Canyon, Lost Dutchman State Park is a favorite spot among locals and made our list of underrated state parks. There are plenty of RV parks nearby, but the RV campground within the state park is perfect as it backs up to the Superstition Mountain Range. It's a green oasis amidst the Arizona desert and has no shortage of challenging and interesting hikes, such as the rock scramble-heavy Flatiron hike or the Hieroglyphic Trail for the historically inclined. You can take an evening stroll out the backdoor of your RV as the sun goes down over these fascinating mountains, or take the kids to nearby Goldfield Ghost Town attraction and learn about the legends that keep people coming back to this magical area.
If an RV tour through wineries in California sounds appealing to you, you'll want to include Wine Country RV Resort in Paso Robles in your itinerary. What makes this resort unique is the emphasis on community with a plethora of events held at the resort's wine garden, including live entertainment, dancing, and of course, wine tasting. When you aren't busy making friends at the resort, you can taste test at wineries in the area and visit nearby Hearst Castle or River Oaks Hot Springs.
If you're feeling bold enough to cross our northern border and venture into Canada, you can't go wrong with Tunnel Mountain RV Resort in Banff National Park. Banff is having a moment amongst trendy travelers right now, and for good reason. Its towering snowy mountains and turquoise blue lakes are a sight to see, and so is the view from this campground. You'll rest in the shadows of Tunnel Mountain and be close enough to enjoy all that Banff has to offer.
For the beach bum RVer, Fiesta Key RV Resort in the Florida Keys is the perfect stop. It's a 28-acre resort on its very own island that provides all the perks of an island vacation along with a swimming pool, a restaurant, basketball and volleyball courts, and a boat ramp. You can also participate in organized activities at the resort-like snorkeling and fishing. Staying here is as close as you can get to the water without staying on a houseboat.
For a truly luxurious mountain getaway in your RV, stop at Mountain Falls Luxury Motorcoach Resort in the Blue Ridge Mountains of North Carolina. Nestled in the beautiful landscape of Lake Toxaway, this resort boasts a 9-hole golf course, an on-site concierge, and organized activities for guests. You can also take advantage of the tennis, pickleball, and bocce ball facilities as well as the two pools and hot tubs. Staying at this resort will feel more like a 5-star vacation than a camping trip.
While some of the other RV parks on our list made the cut for their luxurious amenities and clubhouses, this one makes it because of the natural beauty it's immersed in. Located in Washington's beautiful Mount Ranier National Park, it's closer to roughing it than some of the other choices as there are no electric hookups. However, what you lose in convenience, you gain in experiences. Spend your days hiking and chasing waterfalls at the nearby Silver Falls and Grove of the Patriarchs hikes. It also has a popular amphitheater that hosts events for the whole family.
7 Best RV Parks for Your Next RVing Vacation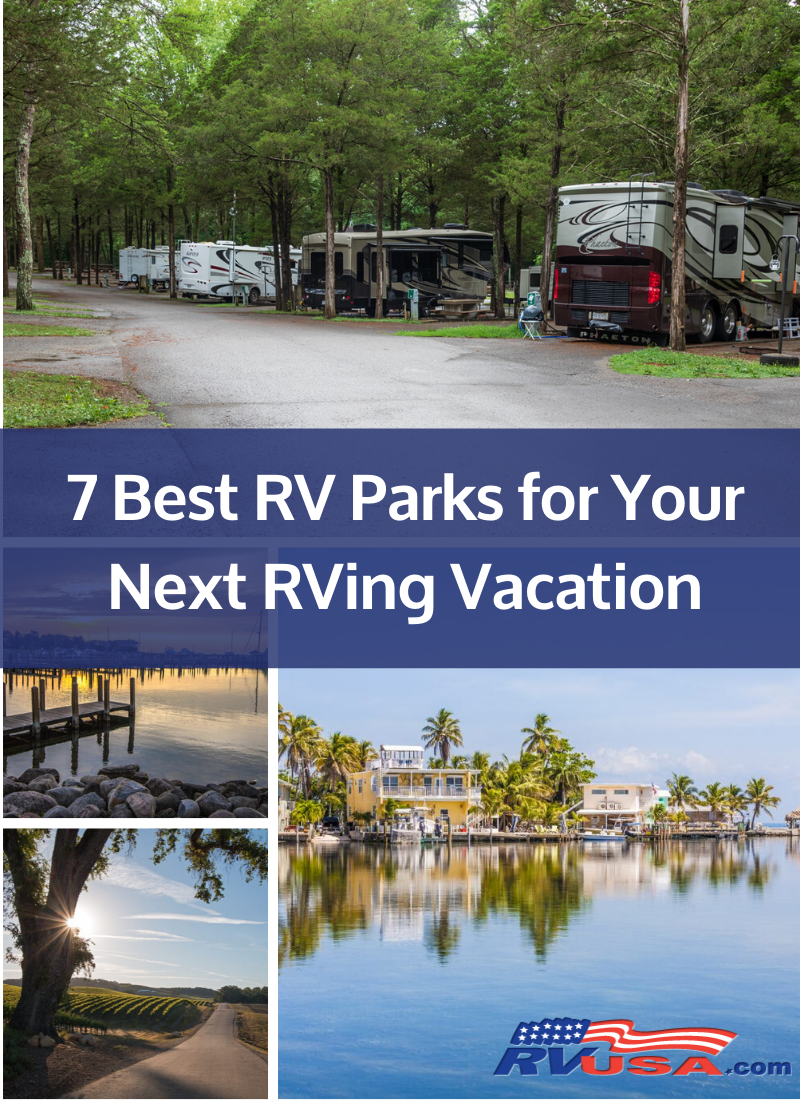 Choose a campground off of our list, or do your own exploring and find someplace new! Thanks to the internet and customer reviews, finding an RV park you'll love and that fits all of your needs is just a click away.
If you still need more inspiration on what to see during your RV travels, check out our blog to read more about our favorite RV destinations.